"Borrow My Business" A Review Of Dean Holland's FREE Web Class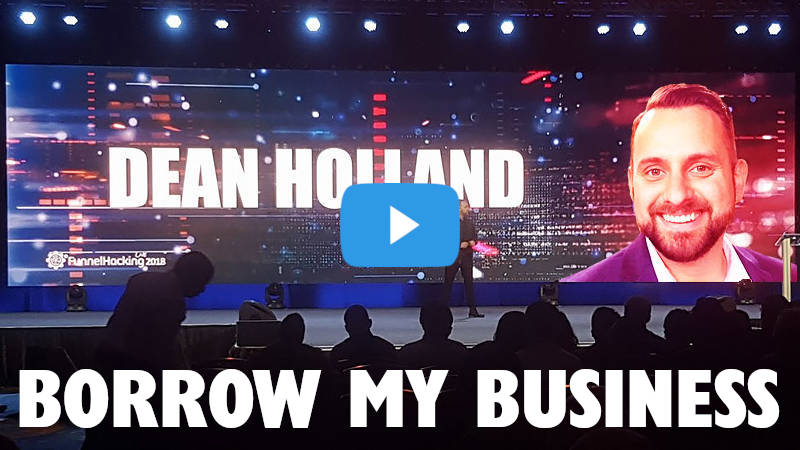 Dean Holland has just released a new FREE training video entitled "Borrow My Business", which attempts to layout a precise roadmap for anyone to create a full time income on the internet.
Today I want to give you a quick synopsis and review of Dean's new Borrow My Business training. This is simply to give you an overview of What You're About To Watch… Checking through this should make it easier to take in the details of what Dean goes into great depth to explain and demonstrate.
Dean opens promising to show you how to make over three grand a month by borrowing websites, even if you're a complete newbie with no experience or audience online.
He then shows you five examples of borrowed businesses, some of which are paying him over five grand a month. Dean mentions here that he's let certain people borrow his own Ultimate Funnel business too.
Works Best For Newbies and Failed Online Marketers
Typically the borrowed business method works well for successful affiliates. But the most spectacular successes mostly happen for frustrated affiliates and complete beginners.

Dean then breaks down what he's about to cover in the next 45 minutes…
How he's making over four grand a day without personally selling anything.
The two hidden reasons why most are failing online.
How to earn multiple streams of income by borrowing businesses.
How to get website traffic for free and turn it into $10,000.
How to borrow Dean's entire business to make three grand a month.
Dean starts by briefly going through his difficult beginnings online, explaining the rocky road he's travelled through online scams, personal debt, shame and despair. Then he reveals precisely what the turning point was for him, and where he was going wrong for his first four years not making a dime.
Then, just 18 months after doing one specific thing for the first time (revealed in the training video), Dean was making tens of thousands of dollars a month.
After explaining, based on this experience, the two reasons why most fail online, Dean introduces a single mother who he's helped to grow her own income online from home to over $100,000 doing exactly What He's About To Show You…
"Borrow My Business" Contents…
The new way for the average person to get rich online without making or selling products, or being well known.
How to earn thousand dollar commissions by giving away high value items for free.
How to get laser targeted traffic for free and turn it into $10,000…

1. The New Way For The Average Person To Get Rich Online Without Making Or Selling Products, Or Being Well Known
Starting with item number one, Dean goes into how things used to work in the past. And then explains in detail the two hidden but overwhelming problems now facing all affiliate marketers today.
Dean then reveals how he solved this, and introduces the approach of "borrowing businesses" which completely solves these two problems. He reveals the opportunity of earning easy $100 commissions from $5 sales. And also a couple of other borrowed businesses which offer recurring income.
Trouble is though, these examples are rare. And they don't even really solve those two big problems facing affiliate marketers.
So Dean then reveals that he set out to build the solution for himself. And this changed everything, Not just for Dean, but also for those borrowing his business from him. He shows Facebook Group posts from at least ten others, most of whom report making over a thousand dollars in one day.
2. How To Earn Thousand Dollar Commissions By Giving Away High Value Items For Free
Here's where Dean reveals the secret of giving stuff away for free to get paid thousand dollar commissions.
He focuses in on three enormously successful online gurus, Frank Kern, Russell Brunson, and Tony Robbins. Dean explains that he paid Russell Brunson $25,000 to discover how this method works so well.

Simply put, Russell (and Frank, and Tony) give away some of their best stuff for free, in a free book. The magic is what happens on the back-end. This is how Russell Brunson, Tony Robbins, and Frank Kern make their millions.
Dean then explains he spent the next two years building out his unique business framework, that can be borrowed and used successfully by others in part-time hours. He goes into detail about sales figures and the range and scope of his business, that others are now borrowing and making thousands in their spare time.
He mentions the attention he started to get from media and online gurus as a result of his business's enormous success.
Dean now breaks down precisely how his business works, from the front-end to the back-end. He explains the basics of what he calls The Ultimate Funnel, and reveals that he actually has multiple seven figure Ultimate Funnels that can be borrowed.
James' Story…

At this point, he starts to tell the heartfelt story of James who had just lost his job and couldn't afford to drive paid traffic. James developed and worked on a free traffic strategy that took just a couple of hours a day, and had access to borrow Dean's Ultimate Funnels.
Within seven months James had surpassed his previous day job income, and has made over ten grand in the last 36 days. All from his own free traffic strategy to give away Dean's books for free.
3. How To Get Laser Targeted Traffic For FREE And Turn It Into $10,000
Dean now goes on to explain the precise traffic strategy that James now uses to make his new full time income.
I won't give anything away here. You really need to see every element of this free traffic strategy demonstrated for yourself. Fortunately, Dean clearly demonstrates everything you need to know about this strategy In The Video Training, so that you can start getting this free, laser-targeted, warm traffic to your offers right away.
Now we're introduced two ordinary new people who followed Dean's borrowed business plan, and quickly experienced thousand dollar days. Dean then breaks down the exact seven step roadmap they followed to achieve their thousand dollar days by borrowing his business.
Dean emphasizes that to create from scratch the Ultimate Funnel business that you can now borrow from him, would probably take you ten years to fully build out, like it did for him.
He then at last reveals exactly how you can borrow his entire business, and offers a sneak preview of what could happen for you on the inside. And Dean explains each of the following in detail…
Done for you Ultimate Funnels.
Commissions of up to $3,000 for one transaction.
Step-by-step blueprint to $100,000+
Done for you plug-and-profit promotions.
His own borrowed businesses for you to swipe.
Free traffic secrets.
Paid traffic mastery program.
BONUS: Private Partner community.
Finally, Dean explains how the application process for all this works. And how you can apply risk free today. The application link is revealed and Dean thanks you for watching.

Video Testimonials From Borrowers Of Dean's Business
We then conclude with fourteen video testimonials from a wide range of ordinary people from around the world. They all followed Dean's step-by-step training, took action, and reported their results back.
Here are some brief quotes from these video testimonials…

Dean called me yesterday, and he was like, "Alex, guess what? You just made your first thousand dollar day." I was so thrilled, I nearly fell off my freaking chair…
---

…Started Dean's program last week and, wow! $683 in three days.
---

…My first ever commission was a thousand dollars in one day. And seven days later, another thousand dollars in one day…
---

A couple of days back I got a phone call from Dean to inform me that I just made a four figure day… Dean is a brilliant, brilliant mentor. The best you're going to find. He really cares about my success and everyone that wants to be helped…
---

…Today, I had my first four figure payday which I'm absolutely blown away by. I'm really pleased.
---

…I've now made two one thousand dollar days, just within a very limited amount of time since I joined. This program is so easy. Dean has done most of the hard work…
---

…I enrolled on the fourth of July, and it's now just rolled over eight weeks. Okay, so two months to the fourth of September. And there we can see in black and white; $7,634.10. That's almost a grand a week. What else is there to say?…
---

In less than two months I've gotten to a thousand dollar day. Which is pretty exciting for me, because I've tried so many things and spent so much money trying to get somewhere. This is the first thing that actually worked…
---

When I looked down the list of sales we'd made that month, there at the bottom was our first four figure commission. I absolutely exploded with delight…
---

Dean the other day, just gave me a call. He said, "Check your back office a minute to have a look at something." And there it was, I'd made two and a half thousand dollars. I just couldn't believe it…
---

I just experienced my first four figure day online. And it's pretty amazing to me… This isn't some kind of network marketing or multilevel marketing thing. There are people who do that and make money at it – I don't participate in those things. This is something very different, and really everybody wins. It's a win-win-win all the way round.
---

I didn't have any idea how to start a business online, or had any marketing skills whatsoever. I just followed the program… I've just made over twelve hundred dollars in one day, which is absolutely fantastic. I never thought I could get to this sort of income, this quickly.
---

I joined the program ten days ago and I must admit I was a little bit sceptical to say the least… I watched Dean's videos and followed the instructions, and I've made twelve hundred dollars. I can't believe I'm actually saying this…
---
I've really cranked up my income. I've made money every single month since joining. Some great coaching as well on the weekly coaching programs. I'm really enjoying the experience. It's not just a glorified affiliate scheme.