Failure Is A Choice, So Why Choose Failure When Success Is An Option?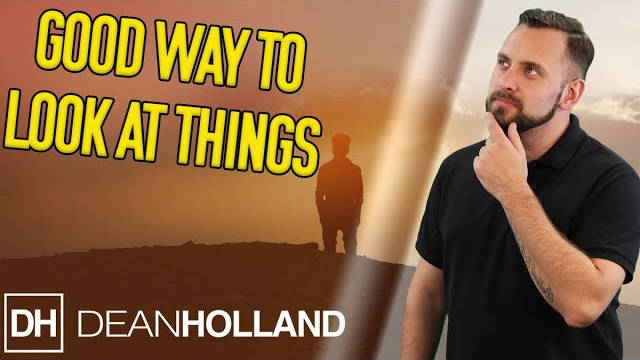 When things seemingly go wrong in business or in life, it often feels like failure. But failure is a choice actually, when you think about it. And so, why choose failure when success is an option? It's basically a matter of reprogramming our state of mind…
"Good morning my friend. How are you doing? It's Dean here of course. It is a fine, glorious early morning at 6:50 a.m.
Y'know, for the last few days I have been in a great routine. I've been going to bed fairly early around about 10 p.m. But I've been waking up really early like 5/6 a.m. Waking up full of energy. I definitely notice a difference.
I always test all kinds of different things, right? And one of the things recently is consuming a lot of water. The difference – the way you wake up – its monumental!

Your concentration throughout the day and the way you wake up the following morning – it's insanely different. Like, it's probably the one thing that you could do right now to change your productivity and the way you feel. Seriously, it's incredible!
Is It Actually Possible To Fail?
I want to talk about something a bit different today. Want to talk about failure. More importantly, I want to take this a different way than what you might be thinking. I want to talk about – is it actually possible to fail? Or is there a different way of looking at it?
I see a lot of people that are very down on themselves, beat themselves up, and give themselves a hard time because they "failed". Well, they perceive they failed.
Was it Thomas Edison who invented the light bulb? Was it him who was like, "I didn't fail a thousand times, I just found a thousand ways that didn't work"? When you think about that, what a great way to look at things. Like, "I didn't fail. I just found a way that didn't work."
Y'know, what if failure wasn't an option in your life? What if you could not fail? If there were only ever results – results that you wanted, or results you did not… But nonetheless, you were always getting results.
And you're never failing. You were just finding ways that either (a) did work, or (b) did not work. What a great way to look at things don't you think? I'm not saying that's easy to just adopt, like – click your fingers – "Okay, now I believe I've never failed in my life." No. It's gonna take time to realise that failure is a choice.
Changing Your Subconscious Beliefs
But I want you to tell yourself that it's possible…
"It is possible that I could make that change. Possible that I could adjust my way of thinking, so that I never have to feel down for too long about stuff not working out the way I'd hoped."
And if you tell yourself every time – you've got to consciously… Y'know, for something to change, you first have to consciously change it. And you consciously repeat that change, that adaption, that method, that different way of thinking. Until eventually you will subconsciously do it. And you reprogram your mind to think in a different way.

A lot of people don't realise that they can take control of their mind. People think, "Well no, I think this way and I feel this way because that's what happens. That's how life is." But it's not true.
One of the biggest things – and I've learned a lot from this guy. But one of the biggest things that I've always taken away from spending time with Tony Robbins, is 'state control'. How you can change your state.
Like, in an instant, in a moment – you can literally reprogram the way you feel and change that emotion. You choose to be stressed, you choose to be overwhelmed, you choose to feel those emotions and those feelings. Because you are in control.
Failure Is A Choice, So Why Choose Failure When Success Is An Option?
If you choose to let something get you angry, then you're choosing that state. You're changing the way you feel, and the output that you put out into the world – that energy y'know.
So I want you to think about this as regards 'failing'. Because when you're starting out in your business, especially in those earliest stages of business, it can feel frustrating. It can feel overwhelming.

You can feel like you are failing, like nothing works out for you. Like, "Oh I'm used to everything going wrong. I'm used to the failure now." It's almost like you're expecting it to go wrong, and expecting to fail.
And I think, to be honest, if you feel that way, you're gonna actually make it happen. That's what's going to happen. If you feel like it's more than likely going to fail, then you're more than likely going to fail at it.
So I want you to start to consciously be aware of the way in which you're approaching things. Because you can absolutely reprogram your brain around any area you want. And if you feel like you fail, if you feel like stuff's always going wrong, then change it. Failure is a choice, so why choose failure when success is an option?
From this point onwards, tell yourself…
There is no such thing in my life as failure. I do not fail. I find ways that work, and I find ways that do not work. But I will never fail again another day in my lifetime. The more I try, the more ways I find that work, and the more ways I find that don't. But I shall never fail again.
So with that said, I will of course see you back here again soon. Thank you for joining me here on today's Drive. Have a great day!