How To Add Free Live Chat To WordPress Websites
Looking for ways to make your WordPress website more interactive and want to offer more engagement with you to your visitors and start building relationships with them in real time?
Well there's an interesting option to investigate in the form of a live chat service, which you've probably already seen on loads of service providing websites.
Check out this article courtesy of WPCrafter on adding your own Live Chat Service to your WordPress website, for free.
How To Add Live Chat To WordPress
If you've been on my website recently you'll see a chat option on the bottom right. I just installed this on a whim. I was installing it for another site and I thought let me put it on my site and see how it performs. And I've got to say, it's been amazing. I've been able to connect to my website visitors, be available for them asking questions, and it has also led me to some new opportunities.
I am a huge fan now of having live chat on your website. I'll be straightforward here, there are lots of live chat options. There is probably, maybe, like 50 to 60 different live chat providers out there. Now the reason I went with this live chat company is I really like the sleek modern look of how the interface is.
So you can see on the bottom right of WPCrafter.com there's my message and there's a picture of me and it's got this really neat kind of hovering chat effect that I really like. Plus they have a desktop app and you can of you can moderate via the browser. There's an iPhone and an Android app.
So there's all these great ways to be able to respond to people that might want to chat to you. I'm going to skip all the talking and to show you how to get this on your website.
Tidio Live Chat
So if you haven't noticed, there's a little Tidio Chat link, and that's the name of the live chat company. Tidio chat is free (although there are paid plans). You can create a simple account and it will just ask you for the website you're gonna put it on.

I have lots of different websites, so the website you put it on isn't as important, because you can have that same live chat account on multiple websites. I'm to show you how to integrate it into your WordPress website.
Now they do have a paid plan but I'm on the free plan. I might stick with the free plan, however I'm considering getting the paid plan. Here's the paid plan for 12 bucks a month and I might upgrade to its because I want the automatic messages facility.
I think 'automatic messages' is actually the only thing that I want from them, but actually 'opening hours' is  pretty cool too. And pre-chat survey; I don't use that. But I would like the automatic messages and I'll show you what that is.
But the free version is extremely generous. You can have one chat at a time if you're just a one person organisation. You can customize the appearance and the colors and everything. You get the to use the mobile apps, the desktop apps (and they have a chrome extension) and you get your history. So anyway, just go and sign up for a free account.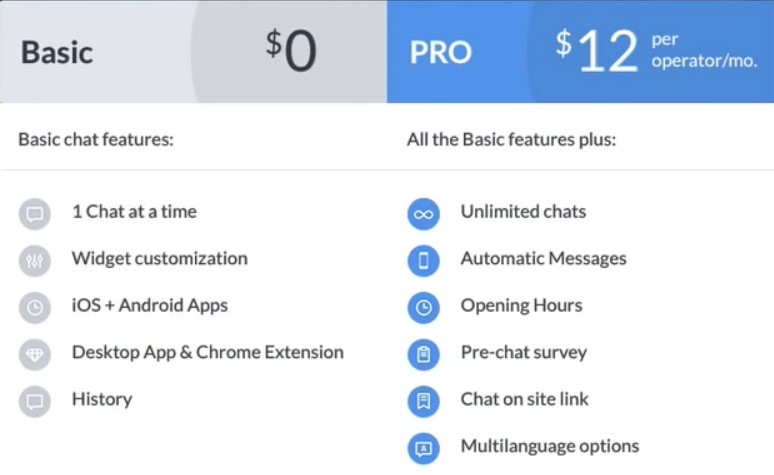 Now in WordPress they couldn't have made it any easier to add free live chat To WordPress sites. Now if you have websites other than WordPress they do have plug-ins and extensions and all that for just about every platform. But we're gonna do it for WordPress.
So all you have to do is log into the backend of your WordPress dashboard, go to plug-ins, add new, and they have a plug-in in the WordPress plug-in repository. So search for Tidio Live Chat and there it is – it's all five-star reviews for them, they are that good. Go ahead and click on install now and then click on activate plug-in. You will then have a new option in the left menu called Tidio Chat: click on that and all you have to do is put in your email and password that you use to create the account just a moment ago.
After entering your email and password, it takes you to a screen where it allows you to choose your project. So when you set up the account, you create a project and put in a URL. Then you click through to the operator panel in a new tab. So whenever you click on Tidio Chat in your WordPress menu it's going to take you straight into the panel from here on out.
So here is the panel and I can see right now their seven people on my website, each with a randomly assigned unique 'name' which you can change later. I can see exactly where they are and what country they're in, and I can actually click on any of these and initiate a chat with someone.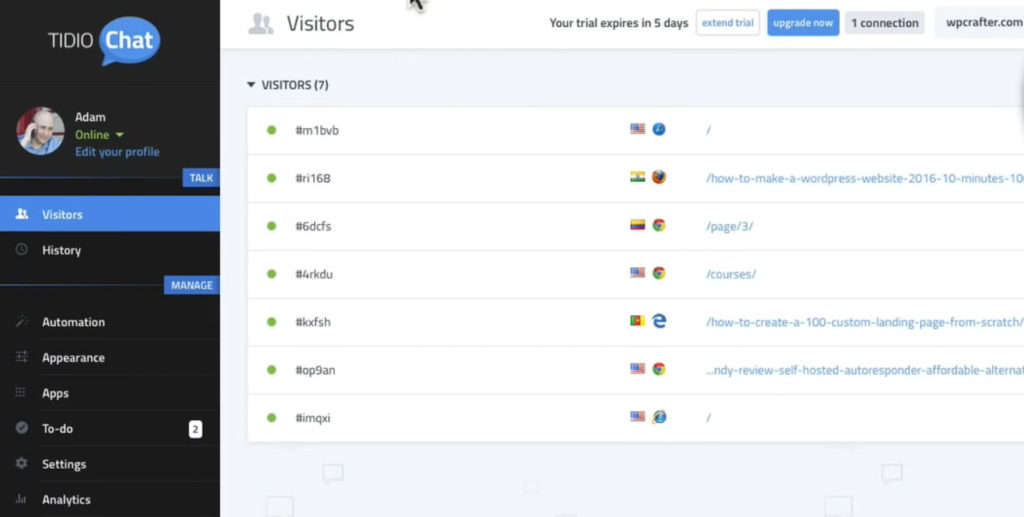 Click on one of your visitors and it opens a live chat window for you to initiate a conversation.
You can change their name accordingly and you also have their IP address. You don't have to sit here and wait for a response. You can just close out and if they do respond you'll get a notification on your computer and on your phone, so you can jump right in and respond to them immediately.
Advantages Of The Paid Version Of Tidio Live Chat
You can click on automation and you can automate on the following four instances:
Opens a page
Visits website for the first time
Returns to website
When an operator doesn't respond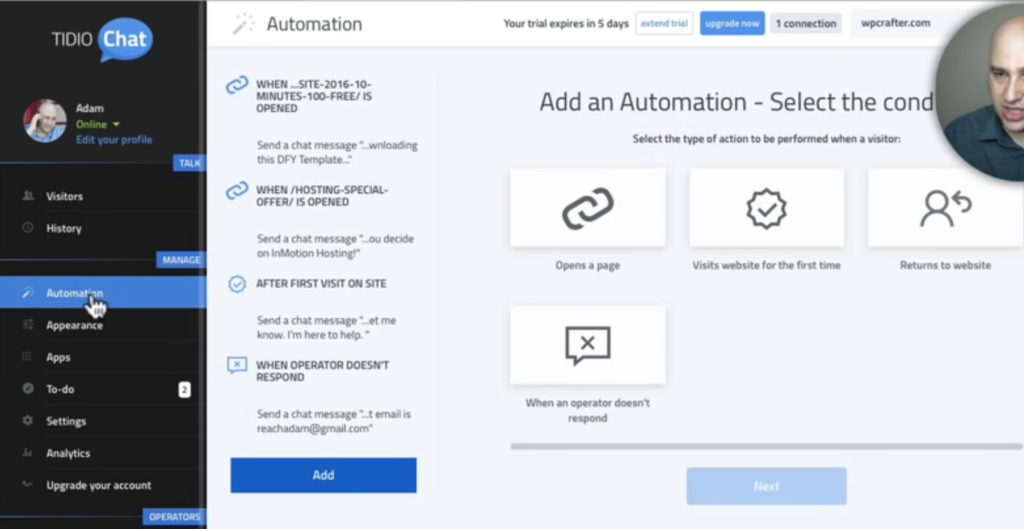 So if someone goes to a particular page, visits for the first time, returns again or if you're not able to respond at the time… You can automate the following, after a specified amount of time:
Send a chat message
Send an email (if the system has their email address)
Add a tag
Remove a tag
So those are some of the really cool actions that you can do automation, but that's for the paid version.
Selecting The Appearance of Tidio Live Chat
Now for the appearance… You don't have to pay to get these appearance options. So you can choose what your first message is, what the image is, there's different looks to it. I like the modern look, like I was telling you. But if you prefer something else, those are available as well. And you could choose what corner of the page it's on.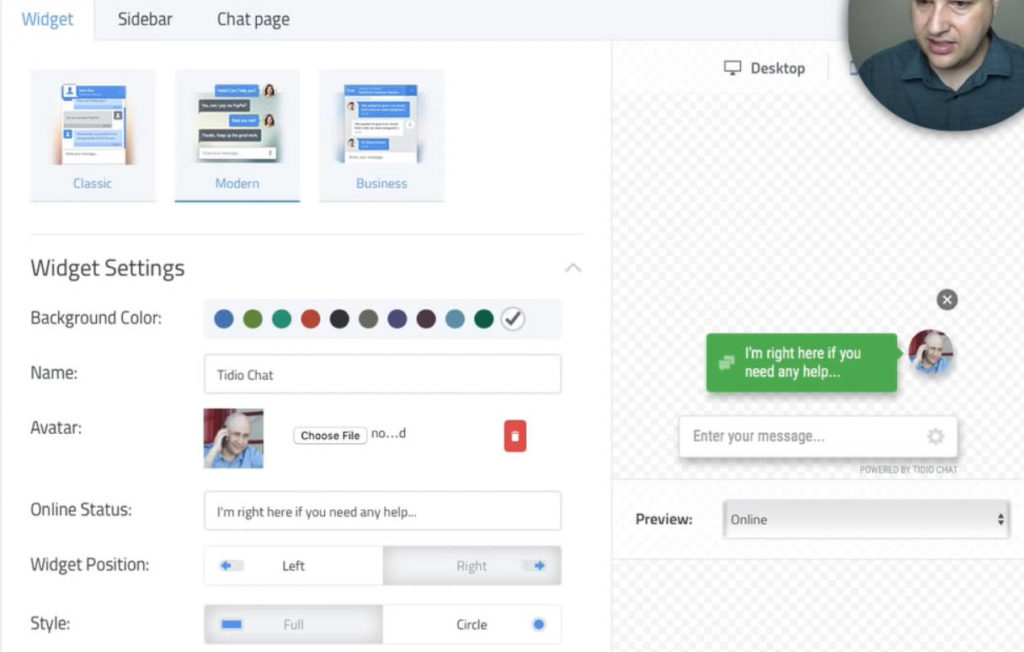 There are just all these wonderful options… you can even do a little sidebar thing on the side that says 'chat with us'. You can change the color to make it blend in or stand out on your website. All these options are included in the free version of Tidio Live Chat.
Click on 'Apps' and you can see all the different platforms Tidio integrates with, which is pretty deep if you ask me.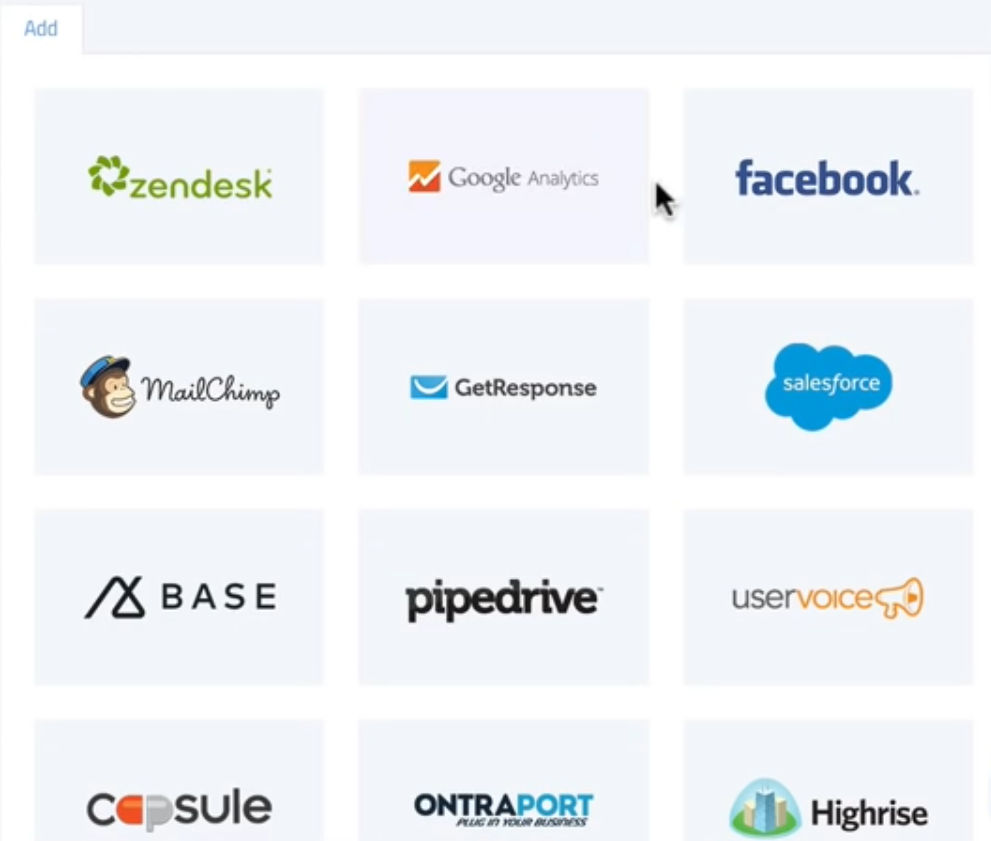 So anyway, I really want to encourage you to test this out. Go ahead and slap live chat on your website and just see what happens. I know for me I'm hooked, I love it. What I really like is to connect and talk directly to my visitors in real time while they are on my site.
What better way to cultivate positive relationships with potential customers!
Thanks to WPCrafter.com for the video source material for this article: