Two Ways To Change Your Emotional State And Get Into The Zone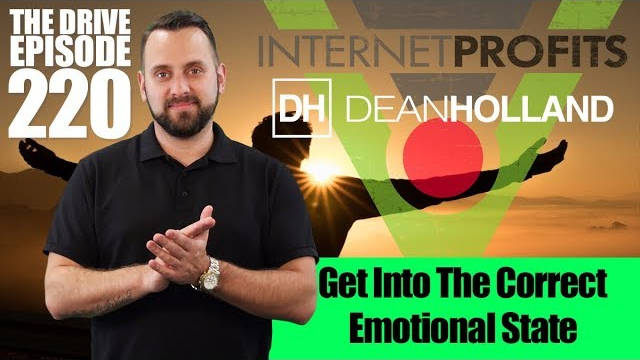 Are you sick and tired of getting bogged down with negative and unproductive emotional states? Here's a couple of powerful and immediately effective ways to change your emotional state and get into the zone…
"I want to talk to you about getting in the zone and changing your frame of mind.
When you are pressured or stressed, worried or concerned, or you have a lot going on, or feel overwhelmed or any kind of emotional state that you might be in… Any kind of negative emotional state… You've got to be able to switch that.

You've got to find a trigger that can help you to switch that in an instant. I was just playing loud music before I started The Drive. Listening to some upbeat music – obviously not to everyone's taste.
But I find one of the…
Most Powerful Ways To Change Your Emotional State
…is sound, is audio. It can change you fast.
Think about this… How many times did you hear a song and you say, "Oh my gosh, this takes me right back to that time and place"? Y'know what I mean?
And so you've got to find your thing that changes and triggers an improvement in your emotional state.
Another One Is…
…posture. Like, how you're sitting. A lot of people, if they're feeling down or anything like that, they'll sit slumped and they'll be like, "Ugh!"
So sit up straight, shoulders back, head high. It can help to put yourself in a different frame of mind, a different emotional state.

When you've got these negative states… Maybe you're just tired even. Perhaps you're not feeling any negative emotional state – like being stressed, angry, frustrated, or overwhelmed. Maybe it's simply just that you're tired or exhausted.
If I go back to when I was in the earliest stages of getting things going for my business. There was a time, obviously as it probably is for nearly everyone, where you're juggling multiple things.
Meaning, you've got a full-time job that you're going to. But maybe you've also…
Got This Desire To Have Your Own Online Business?
And so you're going to work full-time in the day. You come home and maybe you've got family, maybe you've got children.

I remember that for me – I didn't have children, but I had a dog, which is kind of similar in a way, y'know, or maybe not. I had a Labrador at the time, that had a lot of energy. So I get home and have to walk him, then eat some dinner – got to give myself some energy, some food.
And then I'd be sitting down from around about 8 pm, working on my online business until the early hours of the morning a lot of times. Then getting up at 6 am again.
So for at least a few months and years, I was in a certain position where I was probably sleeping anywhere from three to six hours a night. I was tired all the time.
But if you're working towards something, you've got to be able to switch out of that low emotional state, and into a productive state of mind – a focused state, y'know, 'dialled in'. Get into the zone.

Like I say, none of those mental or emotional states serve you… Being tired, overwhelmed, feeling lost, overburdened, frustrated, stressed, worried, concerned, or anything like that.
You've got to switch up and change your emotional state. So think about that.
Think About The Emotional State You're In Right Now
The mental state, the emotional state, that you're sitting down at your computer with, each and every day.
Is that emotional state like, "Yeah! I'm gonna crush this today! I'm gonna smash my goals! Gonna get this to-do list done"? Or is it a state of like, "Ugh, another day"?

What is your emotional state? Switch it up. Change it up. Get more productive, get more done, get more focused… And enjoy yourself a bit more, right?
So that's my message for today. I really wanted to share about that. Because I see a lot of people that are just in the wrong emotional state. In the wrong zone.
Find ways to change your emotional state that work for you, and help you get into the zone. Like listening to your favourite upbeat music and consciously adopting better posture.
Okay, with that said, I will of course see you back here for "Key Performance Indicators Of A Business: Are YOU Monitoring KPIs?" – another episode of The Drive again.
I do hope you've had a good week so far. Have a great rest of your week, and have a fantastic weekend. Take care."