Key Performance Indicators Of A Business: Are YOU Monitoring KPIs?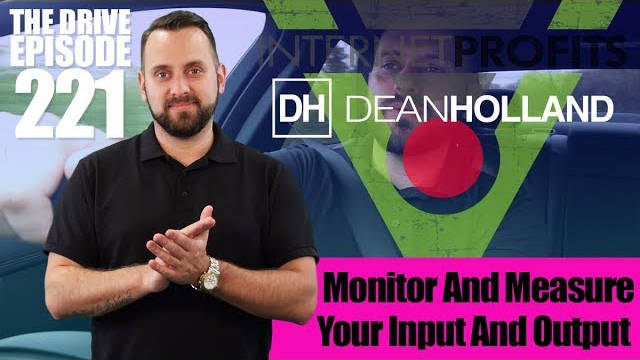 If you're running any kind of enterprise, monitoring the key performance indicators of a business (KPIs) will enable you to improve and optimise it. Otherwise, without knowing these key business performance metrics, you might end up years down the line, still grinding away and not seeing results…
"Hey, welcome to today's Drive. Dean here of course, on the way to Internet Profits HQ on this fine morning.
So, the way in which we kick off our week here at Internet Profits is, we have our 'weekly interactions'. It's just another way of saying when the team all get together.
Not everybody can be with us, because of time differences and things like that. But we have everybody that's in the office. And we have the other team leaders join us from other divisions – from the coaching, the phone team, etc. And we look at several things.

This is something that I was able to take away from some friends of mine, with whom I was on a 'Mastermind' gathering recently. It's how they structure their team, how they structure the company. How they bring everyone together.
They share in the same goals, missions, where everybody's sharing everything… And, y'know, it's a much, much better way of doing things than how we used to.
So, we've kind of just started this. Last week was the first one. But we're still not fully into it yet. There are certain reports and spreadsheets that we've been setting up for people to be able to add certain key performance indicators metrics (KPIs) into. Like, key bits of data and information from their particular divisions in the business.

And ultimately it comes down to…
"What You Measure, Is What You Can Improve"
So we will now see, every week…
How much traffic we generate from our ads.
How much traffic we generate from partners and affiliates.
How many leads we get.
How many customers we acquire.
How much we spend on ads.
How much revenue we generate.
How many applications come in for our high ticket programs.
How many calls the team have, and how many sales were made.

All the different key business metrics, business performance metrics, KPIs…
All The Various Key Performance Indicators Of A Business
And this is what I guess I could share with you today. Obviously without knowing you personally, I can't say with certainty what areas you need to be monitoring, and what key performance indicators you should be looking at.
But I definitely encourage you to look at the key metrics of your business. And to monitor them on a consistent basis.
If you are an affiliate marketer, for example. Then you will probably want to look at things such as; how many visitors did I generate, how many leads did I acquire. And how much did that cost me (how much did my traffic cost).

So you probably want to look at, how much did I spend in total on advertising, okay? How many leads did I generate? What was the average cost per lead? (How much you spent, divided by how many leads.) So there you've got the cost per lead, right? Then how much did you generate in commissions? Was it a profit or a loss?
So you've got to look at your particular business metrics and understand…
What Are The Key Performance Indicators For YOUR Business?
Ultimately if you were to just strip everything bare, it's going to come down to; how much you spend versus how much you make, y'know. That would be the easy way of doing it…

For example, I spent a thousand dollars on ads, I made two thousand dollars in commissions or revenue, okay? Well, I made a thousand dollars in profit.
But then obviously you would have to look at other things. Like, what were the other outgoings of the business? If you were running a business with a team, and things like that.
So there's a lot to take on board – there's a lot to take in. But at least if you make a start, it's better than not looking at anything at all.
I see a lot of people and they're not actually looking at any data. They're just they just wrapped up, and trapped up, in the day-to-day working in the business. It's like they're just grinding every day.

But like, how do you know if what you're doing is working? How do you know if that particular strategy you've been using for the last 30 days is moving forwards positively?
So you've got to get used to monitoring your actions. Your input and output, okay?
Get Used To Monitoring Your Input And Output
…and you will find that you're able to move your business forward progressively.
Because if you look at a certain traffic strategy over a thirty day period, and you see that it's just not producing any form of return. Or even giving you any remotely positive signals that would indicate that it's worth focusing on and improving. Then you've got to change that, right?

But if you're just carrying on every day, you can end up years down the line, still not seeing results. Y'know, that's what I did for four years of my life. Where I was just working on stuff every day, not really knowing what was working and what wasn't
But had I have analysed everything better, even in a simplistic form. Like, what am i doing? What's the input? And what is the output? I would've known what to focus on to improve.
Without that, you wouldn't know. So get used to monitoring and measuring what you're putting in, and what you're getting out. To allow you to improve and grow your business better.
With that said, I will of course see you back here with "Online Business Motivation: How To Avoid Becoming Rich And Miserable" – another episode of The Drive. Have a great rest of your day and thanks for watching.