How To Get More Done In Less Time By Doing This One Little Thing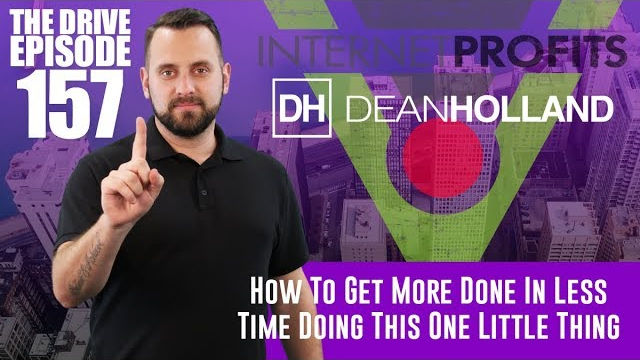 Do you ever wish you knew precisely how to get a lot of work done in a short amount of time? Or simply how to get things done faster? Today, we have one simple little trick which can effectively solve the problem of how to get more done in less time at work or in your business…
"Yesterday, I managed to get a crap-ton (and that's the scientific phrase for this…) a crap-ton of stuff done, that had been taking me far too long. And I did it by doing one thing that I've never actually done before in the office. Surprisingly it worked so well, that I'm tempted to actually do this every day now, in little blocks.
So… how to get more done in less time, doing this one thing, that takes less than five seconds!

Good morning everybody, it is Dean here of course. Thank you for joining me on this journey to Internet Profits HQ. It is another episode of The Drive. I hope you are feeling awesome today.
We had a crazy, crazy like wind/storm weather going off at like 4:00 a.m. this morning. It woke us up, with things being blown around in the street. And I'm now driving on the way to Internet Profits Headquarters, and there are trees snapped – I'm talking like…
Massive Trees, Just Snapped, Blown Down!
There is stuff everywhere, I don't know what was going on.

So yeah, crazy night. But yesterday I got a crap-ton of stuff done. And yes, that is the exact scientific term for how much I got done – a metric 'crap-ton' of stuff done yesterday. Which is awesome!
There's no better, motivating feeling than crushing your to-do list, right? It's basically self motivating, encourages you to get more done, and you feel positive. It's kind of the total opposite of how you feel if you're getting into bed at night, and you know you've not done the things you should've done… It plays on your mind and you can't fully switch off and rest.
So yesterday was an awesome day. And the way I was able to accomplish that…
I Actually Had To Take Some Strict, Severe Action

Because, I don't know about you, but when I'm working online… Obviously I have the good fortune now, that I don't have a full-time job. Running my business, I'm my own boss. I do what I love. Don't have to work for that construction company anymore. I get to spend my days doing what I love, with people that I love, and just have an amazing time.
But because I work online, I'm constantly tuned into stuff that's happening online. Meaning I sometimes have a tendency to think, "I wonder if that person's responded to that email?" Or, "I wonder if we got that order back yet for that transcription?" Or after posting something in one of our private Facebook groups, I'm thinking, "I wonder what the response has been. Let me just go and check."

So I can constantly be disturbing my own productivity and focus. Because I'm constantly online. Sitting at my desk in the office . My computer's online… And even if I'm doing something like putting together a webinar presentation, I'm constantly able to, within like a couple of clicks, open up a browser and be back online.
And so, it often breaks my pattern of focus. Just recently, I found that I'm far too distracted with that stuff. So yesterday… (Wow, look at that! One of the big signs outside the office has also blown down, crazy!)
Yesterday, I was like, "I HAVE to get this thing done! It can't go on any longer." So basically, I went under my desk and…

Here's The Trick That Takes Less Than Five Seconds…
I went under my desk and I pulled the ethernet cable, the internet cable, out of the computer – or out of the wall – disconnecting myself altogether from the internet.
So I couldn't get online as accessibly and as easily as I could before. Then – literally, after doing that one thing – I had two solid hours of complete productivity and focus. I got this thing done, which had been playing on my mind. I needed to finish it, but I hadn't been getting it done for like the last week.
Y'know I'd been dipping in and out of it for the last week, and it had been like 'snail pace' creeping forwards. Yesterday – unplugged from the internet. Two hours work… Done! I was able to just focus.

It was strange… Just doing that, kind of unplugged me from the internet. Even though it physically unplugged me – like, it mentally unplugged me as well.
I don't think many of us do that. We're always so easily accessible online. Like, we have smartphones. We can easily just get on the internet. It's in our pocket. We're sat on our laptops or desktops… Literally always just a couple of clicks – a couple of seconds – at any given time all through our day – away from the internet.
I took that away from myself, and it was actually great for my productivity.

So how to get more done in less time with one thing that takes less than five seconds… Unplug yourself. Take away the internet, and tune into what it is that you need to get done.
That helped me. I hope it helps you. If it does please, 'Like' and leave a comment. If you've got any other productivity tips for how to get things done faster, that you want to share – please do leave a comment.
Thanks for coming along for the journey. Until the next episode; "Finding Self Motivation: Why Is Self Motivation Important In A Business?", this is Dean Holland on another Drive. Take care. Bye for now.