Simple Business Plan Template: Keeping Business As Simple As Possible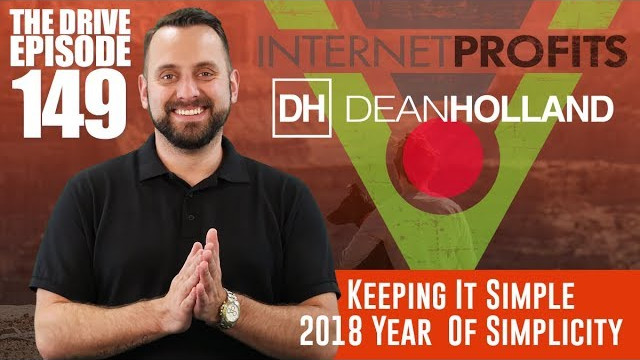 Are you looking for some insights into building a simple business plan of your own? Or perhaps you're looking for a proven, simple business plan template to essentially copy, step-by-step, and build your own online business working from home part-time? Well today, Dean's got you covered…
"Somebody asked me at the weekend what my plans were for this year. I was speaking about the fact that I'd recently sat down and spend a good amount of time really getting clarity.
Getting to grips fully with exactly what we were doing this year, and how we were going to do it. How we're going to have the biggest impact upon the most amount of the 'right people' as we can.
So, as this has recently been a conversation that I've been having, and it's on my mind, let's share this in today's Drive.

Good morning everybody, it is Dean here of course. And welcome to another episode of The Drive, as we're on our way here to Internet Profits Headquarters.
It is cold here in the UK. But the sun is shining. There's nothing to complain about. Everything is amazing. And here we are – I am excited this morning!
Y'know I remember looking back, when I used to go to my numerous different jobs that I disliked over the years. Whether it was a construction company, or working as a waiter, server, barman in a pub. All the different things that I did over the years. I used to live for the weekend. And I used to hate Monday coming back around.

You know what? Now it's completely the other, different way. Like yeah, I enjoy the weekend. I enjoy resting and spending more time with my family. But ultimately, I love getting back to it – I love what we do. And I love our mission, I love what we're striving towards.
Last weekend somebody asked me what our plans were for the year. What we were going to do, and how we're going to do it. And whether we're making any big changes – if there was anything significant changing in what we do, and how we do it.
And well, "Yes, and no", was the answer to that. Because I've got a big, big sort of – I don't know what you'd call it – like a mantra, an ethos, a real mission. I don't know what you'd call it.

But basically, this year is what I'm deeming as 'the year of simplicity'. And the reason for that being, is some of the different things I've noticed as I've worked to grow my company, impact more people and serve a higher volume of people in the marketplace…
I Realised That I Started To Over Complicate Things
I started to really over-think things. And as I stripped it bare, as I went back to looking at what were our biggest months… What were our most successful times? And what was it that we did? Then what, on the other hand, was happening when our revenue was down?
As I look at the entire business, and I sort of analyse the last 1 to 2 years. Looking at it all, I realised that there were only a few specific things that we were doing consistently, when we were having our biggest months.
And when we weren't having our biggest months, which were still great months by the way, just to be clear… But I want to be continually growing. And there were times where we've sort of gone up, and then down, and up and down. So I wanted to analyse what was happening in those different periods.

What was happening when we were on the ups? What was happening on the lows?
On the highs, we were doing just a few things. We were doing them very well. And we were doing them consistently.
Then on the lows, it was like we were still doing those things, but not quite as consistently. Because we were trying other things. We were testing other things, and going in different directions with a lot of our time.
So now, I look at it and I think,
Well, we need to just do what we do best. We need to keep it simple. And we need to put 80% of our efforts into those things every single day, every single week of every single month.
If we do that, we should see high months growing and growing, and becoming a new 'base level'.
So what am I doing this year? I'm…
Keeping Things Simple With A Simple Business Plan
And I'm focusing on a few core things that really bring the results, that really allow us to impact the most amount of people.
Some of these things include… Basically we have some incredible premium programs. Y'know, high-level programs. Three thousand, six thousand, thirteen thousand dollars plus. So how do we get more people into those?
Well we have to have a consistent, replenishing customer acquisition process. So we're actually releasing, every six to eight weeks we're releasing a new type of front-end customer acquisition offer.

And we're then pushing those new customers through a value-driven sequence of events, like automated webinars, trainings, video series – various things like that, once we've acquired them as customers. That then gets them to be aware of our premium programs, and generates interest in them, to then have those people apply to speak with my team about them.
There they'll get on the phone, have a call, check that it's a good match. And for those that it is, we can open a place and get them started. For those that it isn't – no worries, we'll continue delivering the value until such a point where they're ready and able to move forwards with us.
So that's really it. We've got the premium programs. We've got the application, y'know, the value driven application generators. And then…
We Just Need To Keep 'Feeding The Beast'
So really it comes down to those three areas. It's customer acquisition, value-driven applications, premium product sales on the telephone. That's really it. Those three things, okay?

And so, that's how I'm now simplifying it. I'm not trying out all these 'whiz-bang' new marketing gimmicks and strategies – which, yes, I get excited by those things – and that's where the tendency is to sometimes over complicate.
But within those three areas, make no mistake, there are a lot of very clever and smart processes going on. A lot of automation, a lot of dynamically changing marketing campaigns, based on what's happening.
But ultimately, it's three core areas;
Customer acquisition.
Generate awareness and interest in our premium programs.
Then make those sales on the telephone by speaking with people that are right for them.
So, this year… What am i doing? I'm keeping to this simple business plan. The year of simplicity and growth.
And so with that said, if you like this message, please leave a comment, 'Like' and share this blog post. And follow along with these updates on what it is that we're doing here at Internet Profits.
Time to jump in and get this day started. This is Dean signing out until "How To Write Sales Copy That Compels Your Readers To Take Action" – the next episode of The Drive. Thank you very much for following along.