Drive More Traffic To Your Website: Start Using This Strategy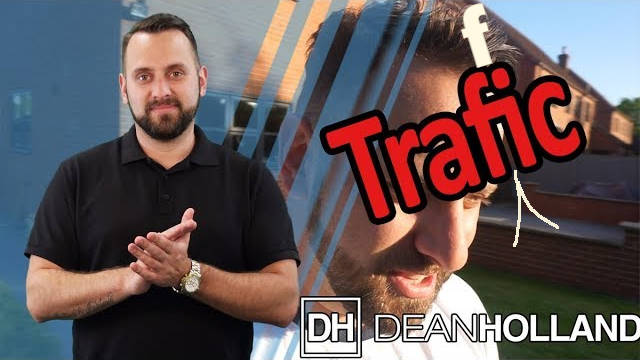 When you want to drive more traffic to your website, are you following a tried and tested strategy? Starting from scratch to drive traffic to your website can a daunting and expensive (in time and/or money) challenge. Dean Holland reveals his best website traffic strategy tips here…
"Good morning my friend, it is Dean here, and welcome to today's Drive. Now as you can see, definitely not in the car today. I am here at Dean Holland HQ, not Internet Profits HQ, here in my back yard.
Now I want to talk to you about website traffic this morning. Y'know it's one of those subjects that everyone's like, "Oh, if only I could get more traffic to my website, I would be rich and all my problems would be solved."
Today we're not gonna get into all that. But let it be known that there are certain things you must have in place before you can even think about how to drive more traffic to your website.
I'm talking about having a high converting sales process, and a solid and consistent way to capture your traffic onto your list and follow up with them. But anyway we're not going to talk about those areas today.

By the way, if you want to learn more about all of that, then right now you can grab a free copy of my book "The Iceberg Effect" if you just cover the shipping. And it goes into all of this in much detail, for affiliate marketers.
But today I want to talk about website traffic, okay. There's a saying…
"All Traffic Is Not Created Equal"
And it's absolutely true. There is a reason that some people try, for example, email buys (aka solo ads) and they don't get sales. There's a reason some people try Facebook Ads and they don't get sales. And there's a reason people do banner ads and don't get sales.
There are many people who do many kinds and forms of website traffic generation. And some people make it work, and some people don't.
Now does that mean that those traffic sources don't work? Y'know, if I had a dollar for every time I've read or heard somebody say, "Oh, Facebook Ads don't work!" It's absolutely ridiculous.
These platforms work. All advertising strategies, in this sense, work. It's normally people's follow-up that is lacking. But anyway, today's not about that.
So I want to talk about the fact of, like, when it comes down to how to drive traffic to your website… How do you actually get started? How do you actually get things going?

You see, when you're first getting started, I truly believe that you should set yourself a goal of how many visitors, how many clicks to your website you're aiming to get each and every single day.
For example, you might say, "Right, my daily target is to get at least (I don't know) 20, 30, 40, 50 people a day." Don't go too crazy too soon, because you're gonna set yourself up for disappointment if you don't achieve it.
So maybe you say, "Right, my goal is to start getting 10 clicks a day on to my website, or through my affiliate link." Now when you're achieving that, then you start upping it, right? Now I'm aiming for 20, I'm getting 10 visitors, now I'm going for 20.
Because to be honest, just posting on social media alone, having a strategy like social media posting, posting on Twitter or Facebook – you could probably easily start getting ten people a day clicking your links.
Start Using This Strategy And Drive More Traffic To Your Website
So I think setting yourself a goal like 20 or 30 clicks or visitors a day to your website, would be something that I'd be looking to do. And then you need to be really be going out there and working your strategy, whatever that might be might be, every single day, okay?

Whether you're doing Facebook advertising, whether you're doing any kind of paid ads. Or "free" – like time-invested methods right? Set yourself a goal of what you're doing, okay?
And just keep at it every day, and say, "Right how many did I get yesterday? I only got 16. So today I need to either do more of that, because I was getting some clicks. Or I need to figure out if there's something better I can be doing that would work more effectively."
But stick at it. The biggest problem people have is they don't stick at stuff long enough.
Take me for example. Recently I started from scratch – we did this coaching program and the whole premise was, "What would I do if I start from scratch with no email list, no existing audience, and all I had was one of my sales funnels and the knowledge in my head – what would I do?"
And for the first four to six weeks I was not profitable, right? But in week seven onwards, things really started turning around. And I literally went from spending in about ten weeks – I think I've spent approximately three to four thousand dollars on paid advertising in total. I did a mixture of paid ads and free content marketing.
And, as of right now, I've earned over twelve thousand dollars in commissions. So that's like three times my spend. But it wasn't looking good for the first six weeks. At the six week mark it was like, "Okay, I'm down… But I'm seeing some results. I'm seeing some things happen – what's working, what's not."

Don't Stop Driving Traffic To Your Website
Then I was able to keep going. And that's the problem. Most people, they're not sticking at something for a week, two weeks, five weeks, ten weeks, 20 weeks, or a year… They're not sticking at stuff. And so they jump and chop and change, and they always come to the conclusion that, "Stuff doesn't work."
Most of the time it's people who aren't working. So make sure that you are working to ensure the thing you're doing can work. And that's kind of my small bit of advice for those of you starting out to generate more traffic to your website.
Set yourself a daily goal of clicks or visitors to your website, to your squeeze page, to your list building page, or wherever it is that you want to send people. But most of the time, it's going to be to that (list building) page. And focus on a website traffic strategy every day to do it – and stick at that strategy every day.
Make sure you're consistently hitting that goal. And when you are doing it consistently, then increase it. Go to like thirty, forty, fifty, visitors. And you'll just keep going, and you'll start seeing numbers in your business – what works, what doesn't work.
That is my advice for today. So until next time with "Morning Motivational Routine For A Productive Day And Mindset", thank you for joining me here on today's "Drive", of course here at Dean Holland HQ this morning, and not en route to Internet Profits. Take care."