How To Get More Traffic To Your Website: A Proven Two-Pronged Strategy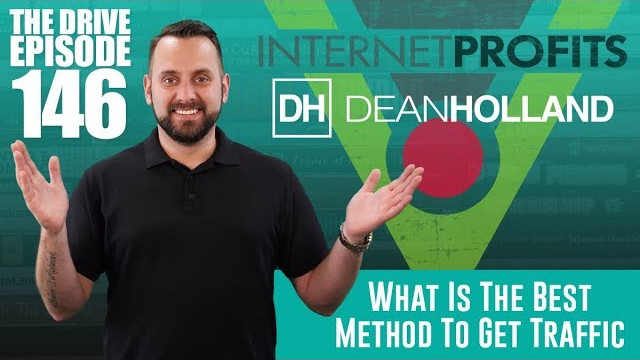 One of the most important questions for anyone growing an online business is, "How to get more traffic to your website?" Here Dean talks about how best to go about getting both free traffic and paid traffic, and addresses hidden considerations that people can quite often miss.
"I was asked yesterday by somebody, "What is the best way to get traffic? What's the best method?"
Good question! I'm probably not going to give you an answer that you'd imagine. So we'll talk about this one today…

Good morning everybody. It is Dean here of course, en route to Internet Profits HQ. It's a bit of a dark morning here in the UK. It is deep into into winter, cold, wet, gloomy and dark. Welcome to England!
Well And Truly Back In Action!
Lots of planning has been happening over the last 48 hours, and lots of clarity on direction. Today, one of the things that I'll be doing is holding some meetings with the team.
Generally, I'll have a couple of meetings each week. We've got the the team that's in the office with me here at Internet Profits HQ. And then we've got several people in various locations around the world, virtual.
Not everybody is able to be there due to timezone reasons, but essentially we'll have a meeting in the morning with the the guys in the office. And then the meeting later on, live online, with the others.

I think that's always important. To make sure everybody's coming together and seeing everything, even though, like I say, sadly not everybody can be there.
But anyway, that's what's really happening today. Sharing with everybody, like, what's been in my head, the plans that I've been making, getting everyone on the same page, and showing everyone the vision, the mission and everything that we're striving towards. All the lives we want to impact, and how we plan to impact as many of those lives as physically possible with what it is that we're doing.
Now, something I thought I'd share with you here today is a question that was asked to me yesterday, actually. And that is… One of our Certified Partners asked me in a comment on Facebook,
What is the number one, best way to drive traffic? What is the best way they should start out with, driving traffic?
It's a real common question. Everybody wants to know…
"How To Get More Traffic To Your Website"
And the answer isn't what people might necessarily want here. Most people want to hear somebody say, "Well, you should definitely do YouTube ads." Or, "You should definitely do email buys – solo ads." Alternatively, "You should definitely do Facebook ads."
But the reality is that – sometimes, for some businesses – there is an obvious, prime choice for traffic. And sometimes not. Because ultimately, the truth and the fact is – the success of your marketing campaigns is about getting the right message in front of the right people, at the right time.
Here's A Prime Example Of That…

Solo ads. If that's something you've not heard of – what that basically means is, you pay somebody that owns an email list a set fee, and they will send your message, your offer, out to their email list. So it's like a promotion to their audience, if you like.
And the idea being that obviously their list then drives traffic to your offer, and they can either opt in or purchase whatever that offer might be. Typically is to an opt-in page to a free gift, a free product offering.
Now a lot of solo ads can be hit and miss. You can lose with some – you don't make positive return on investment. And with some of them, you make a profit. Often people have a negative impression of solo ads, because they try them and they don't get a good return.
The truth is that, if you think about that basis – of showing…
The Right Message To The Right Person, At The Right Time

…to get the conversion. Then this is why with solo ads, if you think about it…
…You're blasting a message out to a massive number of people that can be hundreds or even thousands and thousands of people. And in a very short period of time, it stands to reason that, there is going to be a percentage of people (albeit a small one, typically) who are at the right time to make a buying decision on what you're offering.
It is the right time for them. They have seen enough in their time, and they are ready to buy on that given day. And you ultimately get lucky.
It's kind of like walking up to a slot machine in Vegas, and slotting in just a couple of bucks and it pays out a lot of money. You were just walking up to that machine at the right time. And that's how I think about solo ads.
Now, does that mean though that you're going for a one-hit wonder? No…
The Fortune Is Really In The Follow-Up

That's where the money ultimately is, when you're doing any kind of advertising at all. The bulk of your money, when done correctly, is always going to be made through your follow up process, okay? So don't ever forget that.
So, obviously we've spoke about solo ads a lot there. Now again, does that mean then that people shouldn't be doing Facebook ads, or YouTube ads, or banner ads, or media buys? No.
All Mediums Of Advertising Can Work
Not all ads work… But all mediums of advertising can work, okay? So it's really about figuring out; what do you feel is the best place for you to start? Where do you feel most of your audience is hanging out?
And this is where you've got to know who it is that you want to target.
If, for example, you were targeting 20 to 40 year olds, where might they be hanging out online? If you were targeting 50, 60, 70 year olds, where might they be hanging out? If you were targeting people that are predominantly consuming video, where might they be hanging out? So you've got to think of all of these different things.

Personally, honestly, I would say right now (and this is where we're starting to heavily focus) – I've always done a lot of solo ads. I will continue to do solo ads. But, like I say y'know, they can be hit and miss. It's always in the follow-up, so you've got to have an extensive, high converting, consistent daily follow-up process (as with everything, by the way).
Facebook Ads Is A Big Focus For Us
…and also where we're really starting to venture into YouTube ads. So Facebook and YouTube for us now.
With that said, let me make one final point on the subject of how to get more traffic to your website…
Focus on mastering one way to get traffic to your website, okay? I'm a big, big advocate and supporter of having one free (as in one main content marketing strategy) and one paid traffic strategy.
Thus you have two ways to attack your traffic generation strategy. That's why I do these daily Drives. They're a way for me to publish what I hope is high-quality, helpful, valuable content to our marketplace, across multiple platforms. We put the Drives on Facebook and YouTube for instance.
So that's me. This is my main piece of content. I do a video marketing content. That's my free traffic, right? And we do get sales, and audiences, and attention, and visitors, and traffic from these daily Drives. And we're building and nurturing relationships.

Then in addition to that, one paid traffic strategy would be Facebook Ads. Now why can I do more than one? Well I'm in a position now where I have a team. You may or may not be right now. If I was just on my own, I would be doing my video and one other paid traffic strategy – that would probably be Facebook Ads for me. But you…
Choose One, And You Focus On It – You Master It
And only when you master it, and it's working and profitable for you – then you could consider doing more. But a lot of these platforms – they have such scalability, so that for a long, long time you wouldn't need to.
If you're looking to grow from zero to five or six figures a year – just one of those platforms has more than enough traffic, once you master it.
So, I hope you find that helpful. Please Like and share share this message with others. Let's get this value into the hands of as many people as possible. And of course, I will talk to you again in "Building An Online Business: The Four Cornerstones Of Success". Time to jump into the office. Keep moving forwards. Let's do this! Talk to you soon.