Best Affiliate Marketing Tactic: Most Profitable Affiliate Marketing Strategy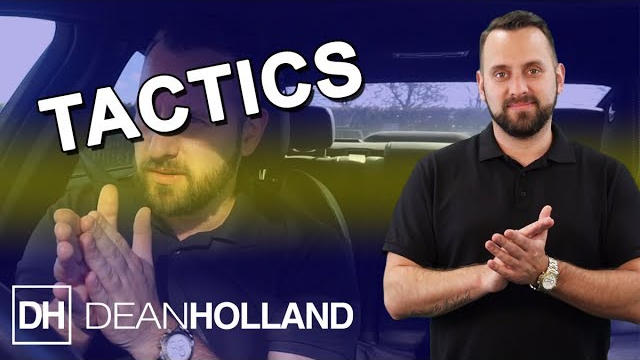 The traditional affiliate marketing strategy from ten years ago is no longer as profitable with paid traffic as it once was. Dean reveals here what's happened to the affiliate marketing industry over recent years, and lays out the blueprint for the best affiliate marketing tactic you need today…
"Hey, hey, hey! Good morning my friend. Dean here of course, just on the way to Internet Profits HQ.
I just want to share a quick, short message. More of a tactical thing y'know. Sometimes I talk about what we're up to, sometimes I talk about motivation and all kinds of stuff here on The Drive.
But today… I've gone through everything meticulously recently. Like, what did I do? How did I do it? What does it take to build a business?

And I'm not gonna talk about mindset and that stuff today. Even though, to be honest, that's probably the biggest differentiator between those that succeed and those that don't. But anyway, we'll push that to one side and talk affiliate marketing tactics.
Looking back, I used to think, "If only I could get more traffic… Then all my problems would be solved as an affiliate marketer." That's what I used to think was the best affiliate marketing tactic.
But the truth is… Y'know, when you look at it… If you think that, I want to give you a bit of a wake up call. I want you to think about something…
There Is So Much Traffic On The Internet!
It is RIDICULOUS. There are billions of people on Facebook alone. That's one platform – just one platform, right? You only need one platform. Think about this for a second.

Let's say you only… Imagine you eradicated all other platforms, and you only have Facebook. There is still more than enough traffic there for you to have monumental success.
Or let's even draw that back a bit. Let's not even talk about monumental success. You could make enough to replace your day job, or supplement your pension, and live a very good life just off of Facebook, right?
Facebook makes people millionaires from their traffic. So it's not about the traffic. The traffic is there.
So why is it then that people still don't succeed? Let's imagine you could get all your traffic from Facebook, or Instagram, or Twitter or any of the other platforms – Google Ads, Microsoft Ads, etc. There's so much, it's ridiculous, it's absurd.
So let's take traffic out the equation. Then what are the other components of a profitable affiliate marketing strategy? Well, there are four main things… But I want to talk about one.

Traffic is the first of them. Then there are two other affiliate marketing tactics. But it's the final one that most people don't have… And that is…
A Profitably Converting Sales System
Now, I'm not talking like… Y'know, when I got started – or – when I actually started making money back in 2008/2009, you could just get an affiliate link from like Clickbank, or any of the other platforms.
I was mainly using Clickbank… And you could promote that offer, and you would get commissions on that first product that you were driving traffic to – and then the couple of upsells that would normally follow. But that would be it.
The thing is, back then, things were very different. Like, the cost of products was higher. Which meant you were able to get a higher commission. And you could get traffic cheaper and easier, because there wasn't as much competition.

Today, things are very different though. The average cost of products has come down on the front end. Which means the commissions have been reduced. And although there's a lot of traffic, it's more competitive. Therefore the price is up.
The Best Affiliate Marketing Tactic For Today
And so what do you do then? What's the best affiliate marketing tactic to use today? Well, you need what I call an 'Ultimate Sales Funnel'. But let's not even talk about the ultimate sales funnel yet.
There's one critical thing that you must now have to succeed. And that is the ability to make big commissions. What I mean by that is…
Take your average, normal sales funnel on Clickbank. It would normally consist of what's called a front end product, and then probably two upsells – two or three upsells, right?
You get commissions on the front end, which might be about ten or twenty dollars maybe. And then on the couple of upsells. But now that's no longer likely to be profitable using paid traffic.

So if you just promote a product off Clickbank with paid traffic, you probably won't make a profit, right? Particularly in my industry at least. So what you need is… You need the ability to earn money by…
Making Sales And Commissions On Additional Purchases
Take me, for example. We have products that go anywhere from three thousand to eighteen thousand dollars.
Now, think about it. I could sell hundreds and hundreds of copies of those twenty dollar Clickbank products, in order to make, say, ten thousand dollars a month, right? Hundreds of them!
OR, I could sell one ten thousand dollar program. Where do you think the profit is? What's the easiest affiliate marketing strategy? It's in those high ticket sales and commissions, those premium products. And that's what a business needs.

Y'know, I could literally hold a two or three-day workshop on that aspect alone. But I just wanted to plant that seed of thought in your mind, cos that's the best affiliate marketing tactic to be using today.
So essentially, one of the things that you must have in your online business now, in this current economy, are premium products that pay you big commissions. Like four and five figure payouts per sale.
If you can get something that pays you four figures per sale, it's going to allow you to profitably go out there and buy traffic on Facebook, Google, Microsoft, or any of the platforms. And be able to do so profitably. That's the key to a successful affiliate marketing strategy today.
So with that said, thank you for watching this episode of The Drive. Until "Motivation To Change Your Life And Overcome Obstacles To Success" next time then, it's time for me to jump into the office. Take care and bye, bye for now.