Blogging Beginner Tip: Don't Run Before You Can Walk!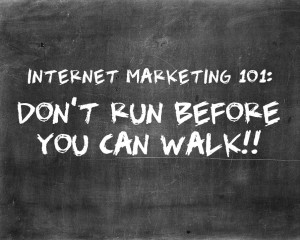 When I joined Internet Profits, thinking that I knew best – even though I was a blogging beginner – I steamed ahead building my new business. This WordPress blog, for example, and all the social media accounts.
Fortunately, I already had accounts with a domain name registrar, a website hosting company, and an autoresponder service. I therefore spent my time on the following:
Thinking about my brand, brainstorming domain names then buying one and updating the name servers to point to my host's servers.
Installing WordPress on my new domain.
Deciding upon the look and feel of my new blog/website and buying a professional theme.
Designing a simple logo for the site.
Creating a Facebook Page for my business.
Creating social media accounts for my business on Twitter, Google+ and YouTube.
Designing the cover graphics for each of these accounts / pages.
Setting up a 2 step opt-in page, with a split test (video background vs white background).
Recording a couple of video blogs or v-logs, uploading to YouTube and sharing on my blog and social media sites (I'm rubbish at v-logging, but hoping to improve!).
Writing and posting a couple of internet marketing articles and sharing them on my social media accounts.
Writing around 30 decent forum posts on Warrior Forum, and then added my signature link.
Following internet marketers and positive thinkers on Facebook, commenting, liking and sharing their posts.
Populating my autoresponder series with useful and engaging emails as well as the promotional ones.
I'm sure I could think of more, but even writing that list exhausts me!
Blogging Beginner Tip
All this within two weeks, but not a single sale yet. Of course I haven't really been actively driving traffic so I can't expect sales yet based upon just getting the online infrastructure in place.
After all that, I had a bit of a panic attack yesterday and realised I needed to reign myself in a bit and take stock.
My big mistake as a blogging beginner was that I hadn't taken the time to go through enough of the simply awesome, no-nonsense training that's privately available to all Internet Profits Certified Partners.
So, when I woke up this morning, I decided to stop and go through The Social Loop training available to me as an Internet Profits Partner. And I'm so grateful that I did.
I now feel calm and purposeful and am restructuring my website (or hub site as Dean calls it) into more of a "my personal story" blog or journal rather than a generic internet marketing site. Although I still plan to add useful articles along the way as I learn the trade.
So there it is for now! I guess this counts as my first blog on this new road.