After making my first blog post in a few months, last week started out with all good intentions and I set out plans of work to get done, such as scripting and shooting videos, updating my blog, and making a few more good posts as well as a sales page for a new exciting webinar.
However, life quickly took over and the week became chaotic and busy, but in a good way really. My partner Anita is a well respected Aromatherapist and healer and has also taken on the role of a dog walker/sitter for her friend's new border collie pup, Rosie. Anita's friend is a single mum (or mom if you're in the States) who lives in a small 2up/2down terraced house in the city, has a 5 year old child and also works full time.
Now I know what you're thinking – why on earth did she get a border collie pup? I honestly don't think there's a breed with more stamina and energy to burn than border collies. Beautiful animals though, highly intelligent and extremely sensitive to their owners every signal.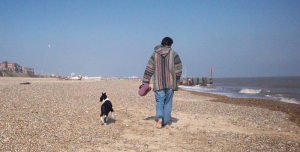 Anyway, Anita had to spend most of last week preparing for an event at the weekend and had very little time for the little pup Rosie (except for a quick trip to the coast at Lowestoft – see photo). So guess what that meant. Yes, I became assistant (to the) chief dog walker last week.
Trips to the park and lots of ball chasing ate into all my big plans. Don't get me wrong, I love spending time with Rosie, she's adorable as you can see, but I was glad when the weekend came and Anita was away on her event and Rosie's owner could look after her. Time to get some work done.
Well the weekend came and went far too quickly, but I did get a few videos shot and edited, blog updated and tweaked including my logo which now includes my face (for better or worse!). Much more work to do though, it's Monday morning and I'm sitting outside with coffee typing this while Rosie patiently waits for 'walkies' in the park. I do like Mondays!
Right, let's get this posted with a photo of the wee pup.