How To Create An Effective Digital Marketing Strategy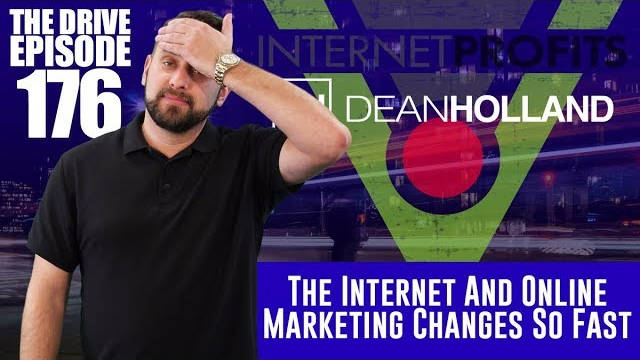 Online marketing technology and the internet changes so fast. Do you know how to create a digital marketing strategy that can keep up with all the changes? Here are some evergreen tips and advice for creating your own effective digital marketing strategy. This approach is especially suited to affiliate online marketing, as well as for product owners and service providers…
"Somebody said to me yesterday, "Dean, the internet and online marketing – everything changes so fast. How are we ever supposed to keep up?"
That is something I'm going to talk about this morning – speed.
The truth is, technology does move fast. But I can't begin to tell you how much it is true – that the same principles that applied when I made my first affiliate commissions online ten years ago, still apply today.
The same principles, the same set of things that have to be done. Yes, the tools which we use change. The technology that can assist us, advances and changes. But the principles still remain the same.

For example, I still see so many people not building their own email list of targeted prospects. Still seeing so many people not focusing their energy and efforts on mastering one main strategy for traffic generation.
So let me say this clearly… Technology advances and moves fast. But the principles upon which you can build your business on, and run an online business successfully, remain largely the same as they were ten years ago (for me).

Let Me Lay It Down For You:
Traffic generation – number one.
Lead acquisition – building your list, basically.
Customer acquisition – converting prospects that are on your list into paying customers that buy products.
Now those products could be yours, if you're a product owner, creator, or a service provider. Or they could be someone else's, as an affiliate, if you do not have those yet.

I started out as an affiliate marketer. Why? Because to be honest, I didn't have the experience or knowledge to create my own stuff early on. So I promoted other people's.
But I still did the same principles: Traffic generation, lead acquisition – building your list, customer acquisition – converting prospects into customers. How do you do that? You follow up with them every single day, through email marketing.
Now if you're an affiliate marketer, that's kind of where your job stops. Because you get those people into those products and then the upsells – and you get paid commissions on those.

Now ultimately, much of what I stand for is that I believe this traditional affiliate marketing business model… When you do things in that way, when you're paying for traffic – it's got more and more difficult. Increasingly difficult, because…
Traffic Costs Are Up, And Commissions Aren't Covering Them
It makes it difficult. That's why we have our Certified Partner program. That's why we 'certify' our Partners. So that they have the full sales funnels at their disposal.

So when you acquire the customers, the sales funnels KEEP working for you. Making you hundreds of dollars in commissions, then four figure commissions up to three thousand dollars per sale. Which resolves that problem (of high advertising costs), okay?
Now if you do have your own sales funnels, then after 'customer acquisition' comes things like 'value maximisation' and 'ascension'. Like, premium products and services. Selling more to your customers, both at the time of purchase and through follow-up.
So really, when you look at it… Yes, technology moves fast. And this is my answer. Things do move fast in a certain sense. Technology moves fast and advances quickly. But the principles of marketing – the principles of what you must learn and do to start and grow a business online – remain the same.

How To Create An Effective Digital Marketing Strategy
Learn how to…
Get traffic.
Build an email list of targeted people from that traffic.
Follow up with them, every single day.
Convert those people into customers of something.

Okay? So with that said, hope you found that helpful. Have a great day. This is Dean signing out for another day, another Drive done – until next time with "Example Of Sales Funnel Conversion Rate Optimisation Using Split Tests". We're at Internet Profits HQ now. Talk to you soon."
What did you think of this message today, about how to create a digital marketing strategy? Would you be able to deploy this effective digital marketing strategy, and build it into your existing marketing plan? Feel free to leave a comment on this subject. And don't forget to share this post on your Facebook, Twitter, LinkedIn, etc.