Develop Positive Thinking: Change Your Mind To Change Your Life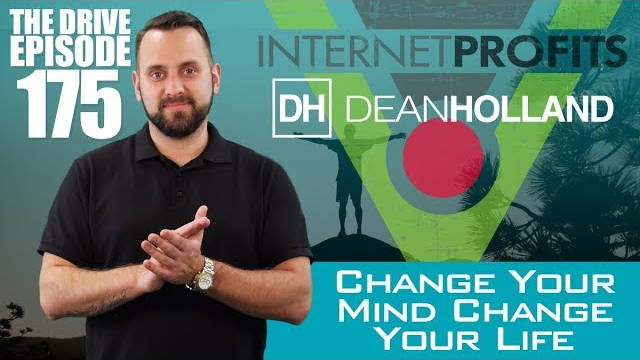 Do this one thing every day to help develop positive thinking, and see how the 'change your mind, change your life' strategy will work for you. Clear out negative trains of thought and build positive morning motivation, by understanding this one simple (audio-based) switch that you can make to your morning routine…
"Don't you find that the things you listen to and the things you hear, affect how you feel and how you think?
A lot of people are so oblivious to this simple trick that you can do as a person, let alone as a business owner, to completely alter your days. I want to share this massive tip with you today, so let's get this rocking…

Good morning everybody. It is Dean here of course. Thank you for joining me here on today's Drive, as we journey to Internet Profits HQ.
So… I've been doing something for a little while now, and it completely changes everything.
Now, you'll often hear (well, maybe you will, maybe you won't)… There is an expression a wise man once said. I can't remember who it was, but it goes…
"Change Your Mind, Change Your Life"

Now, a lot of people take that in different ways. Like, develop a positive mindset. Or some people would think, "Change my mind? About what? What do I need to change my mind about?"
But I want you to think about it in this way today. And I want you to make a conscious effort to at least put this to the test. Because I'd vow that it will make a big difference to you.
And this applies to everyone. Whether you're in a full-time day job, or a part-time job working for someone else. Maybe you're going to a job and you're striving to get out of it.

Or maybe you have your own business like me, and you drive, or you go to your office, or perhaps you don't leave home. Maybe you work from home.
But still, in our day-to-day lives, we are taking in information. We are taking stuff in. We're hearing things all the time. Y'know, obviously excluding any hearing impediments in that sense of course, right? But as a whole right, those with able hearing – we are hearing things, we're taking things in.
Now a lot of people choose to listen to the news. They choose to listen to certain TV shows, media on the internet, videos on social media – they choose to listen to…

All This Stuff That Fills You With Emotion
I honestly believe that the greatest thing that evokes emotion is audio.
Think about it… Sounds – they make an impact. Y'know, music is one of the biggest drivers. When we're putting together videos, and we've got our videographer producing videos, one of the most important things is the audio. If not THE most important thing.
For example, you could have – for those of you that don't have a videographer like me. (And this is really going off track, by the way.)

You could have 'okay' visuals… So you could be using your phone, or like a normal camera, and you could have average visuals. But if you have great audio, it would make that video amazing, right?
So I believe audio best evokes emotion. And so, I want you to think about this…
What are you listening to everyday that's going to change your state, change your feelings, change your emotions?
Let me tell you what I've been doing for some time now, everyday.
So as you know, I come on this journey most days to Internet Profits headquarters, right? It usually takes me in the region of 10 to 12 minutes to get here, from the moment I leave my house. Now, the earlier days of me doing these Drive videos – because we're fast approaching 200 episodes now, which I think is pretty insane.

The earlier ones were much longer. Like, I'd literally hit 'record' on my driveway outside my house, and I'd shoot the whole journey. I've now shortened them. Why?
Well, one… I want them just to be shorter so you can consume them easier, and just get these quick bursts of information from me.
But, two… I wanted to alter my mental/emotional state every single morning. Allocate about five minutes or so, to altering my state every day. To make me feel driven, develop a positive attitude, feel motivated, upbeat and different – for when I get to the office.

And so, what I choose to do every day now… I take out my phone, which is connected to the audio system in my car. And I go on YouTube and pull up some kind of motivation or 'pump you up' type stuff…
To Develop Positive Thinking
It might be like just some random collection of motivational clips. Or it might be people like Les Brown. And I would sometimes listen to – and this is more for like gym people – but guys like CT Fletcher. And y'know, motivational people like Tony Robbins. People that can fill your brain with positivity that will motivate you, change your mental state and help you develop positive thinking.

That's what I do every single morning now, to develop positive thinking. And on the way home I actually do the same thing. And the difference it makes is insane!
You have to feed your brain. So when you hear, "Change your mind, change your life" I want you to think about it in the sense of, "What are you feeding your brain? What is going into your mind? And how can you change that?"
Are you taking in media, news, negativity, the opinions of others? All that stuff is gonna affect you negatively. You want to be going into your days, no matter what your days look like… Fill your brain, feed your brain with motivational positivity, and stuff that will positively impact you. Even if it's just for five minutes in the morning, like me. And…

Now I Get To The Office And I'm Like, "Boom! Let's Go!"
So just a little tip. Just something a little bit different. Over the next few Drives, I will be giving you more tactical marketing strategy stuff. But honestly, what I've just shared today will impact your productivity, your mood, and your life probably more so than the tactics and strategy.
Anyway, until "How To Create An Effective Digital Marketing Strategy" next time, thank you for joining me here on the Drive. With that said, have a great day. This is Dean signing out for another day. Let's do this!"
Hope you enjoyed those tips today, about how you can develop positive thinking and change your mind to change your life. Please share this positive message on your social media if you think these tips might help other people who are struggling.