Be Passionate About Your Work, Or This Will Happen To You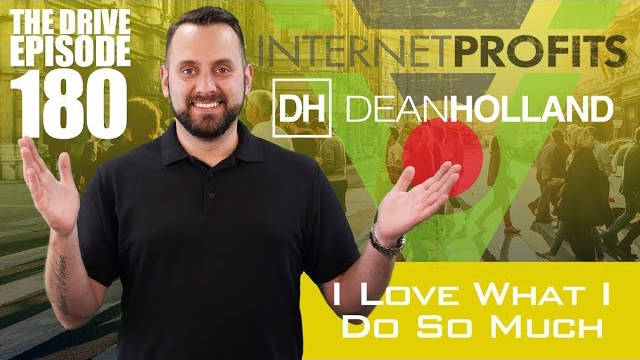 How do you really feel about the work that you do every day? Can you truthfully claim to be passionate about your work? Dean talks here about the passion that drives him in his online business, and what you must do to avoid life just passing you by…
"We are in for a LONG day in the office today at Internet Profits. Let me share the story…
Good morning everybody. Welcome to another episode of The Drive. Dean here of course. Thank you for joining me here on this journey to Internet Profits HQ. It is a bright sunshiny day, here in the UK. Doesn't mean it's warm though, don't mistake what I'm saying 🙂

Anyway, I hope you're well. I hope you having a good week. We have kicked the week off with plenty of stuff. We actually launched something yesterday. I know – if you follow me, you're probably thinking…
"Geez, Dean Launches A Lot Of Stuff"
The reality is – the more offers you make, the more people you help, the more money you make. Simple as that really.
Well, we could go deeper than that… The more offers you make to the RIGHT people that need those things – the more people you help, and the more money you make.

Now today… Well, I've got a long day coming up. Like, right now it is about 8:50 a.m. and I'm just on the way, of course. But I have a webinar at midnight tonight. That's like fifteen hours away.
And then that webinar is probably going to be a good two or three hours maybe. So that'll take us to 2:00 a.m. at least. Which is 17 hours. So unless I go home at some point later for a couple of hours, it is gonna be a long-ass day!
But you know what… I've said this many times before. This is something that not everybody in life gets to truly, truly experience. And I think it's such a sad thing that people don't fight more for this.

I've said it time and time again, that I don't actually do any "work". And I know that sounds weird – I just said I'm gonna be in the office for like 17 hours today.
Can You Be Passionate About Your Work?
But the reality is, I'm so driven and passionate about what I do. And I mean beyond beyond what most could probably understand. Like, I love what I do so much. I love, and am driven by, the difference that what we do can make.
Even in my business, I haven't always been like that. I haven't always had that feeling. When I first started out, trying to just be a young kid wanting to make some extra money, I didn't have aspirations, or the belief, or necessarily the understanding – of what could be done with an online business.

I didn't start out wanting to make millions online, because I didn't know it was possible. I started out wanting to make a bit of extra money to make things a little easier, y'know. And I didn't set out to build an international company like I do now, and to speak on stages like I do, and do the things that we do.
This was never in the scope of what was possible for me, or even what I desired. But as things develop, as things grow… You realise that what you know, when you develop what you know, and you practice your craft – it can become something so much bigger than what you could have ever imagined.
I'm so driven to be even better and bigger, and have more impact. And I think…
This Is Probably Just A Natural Progression As A Business Owner

When you start, and you start to see the results, and you see those results growing…
Our Certified Partners and I, we always have this laugh. Because I say all the time – and I've said it for years – I truly believe, to this day, that we're just getting started. And it's almost like a sort of 'thing' now, y'know: No matter how big we get, we're just getting started.
And it's a mighty exciting time! So I guess the message today really is like, love what you do to the point where you don't "work" a day in your life. And you should be passionate and driven by what you do.
That doesn't mean everybody has to be a business owner, y'know. The world wouldn't work if everybody was a business owner. Not everybody can be, or should be, or wants to be a business owner. But that doesn't mean you can't be passionate about what you do.

My Team Are Passionate About Their Work
For example, Adam our videographer – he's passionate about doing videography. And I would hope that everybody on my team is passionate about their position, and the importance that they have here in the business.
You should be passionate about your work too, no matter what you're doing. Even if you're somewhere you don't want to stay long-term. You should still be passionate about it while you're there. Because if you're not, it's gonna be hard to work, and life's gonna be tough. And you should get out.

But a lot of people just stay stuck in either their businesses or whatever position they're in – because they're too afraid of change. Well if you don't want to be where you are, you've GOT to change. Because otherwise, life's gonna pass you by.
Anyway… Random one. I don't know where this came from this morning. But anyway, I hope you're well and have a great day. We are here at Internet Profits HQ, so thank you for joining me. I will of course see you again soon with "How To Grow A Small Business By Working Smarter On The Right Things".
So with that said, time for me to jump in and start this marathon day. Have a great one my friend. Thanks again for joining me. Dean Holland, signing out for another day."
If you simply can't find any passion for the work you're doing every day right now, you need to make a change. Otherwise, your life may well start to feel more and more unfulfilling… So why not go ahead and grab a free copy of Dean's new book, The Iceberg Effect, which maps out the simplest way to start and grow an online business.