How To Overcome Customer Resistance With This Disney World Tip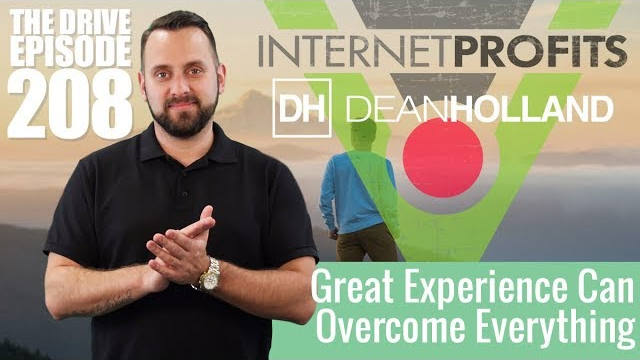 Just a short message today from Dean about how you can overcome customer resistance to your products and services, by employing this amazing, overwhelming engagement strategy that's so successful in the Disney World Florida theme park rides…
"Good morning everybody. Welcome to another episode of The Drive…

As you can see, I am inside of Internet Profits HQ. I'm not gonna dress it up any other way, it's quite simply because I didn't charge the battery on the camera. So I had to wait until I got here this morning, to get this charged a little bit, to be able to do today's Drive.
I just want to share something that's been completely transformational, and really opened my eyes to something over the past few weeks.
If you've been following along, you'll know that I've recently been on a three week journey, where I went on a a cruise for seven days. I then went to Disney World Florida and attended Funnel Hacking Live. Spoke on stage…
Shared The Stage With Russell Brunson, Tony Robbins
…tons of other amazing people.
Then I spent a few days actually visiting the Disney World parks. We went to Animal Kingdom, Magic Kingdom, Epcot. And it was just incredible!

So why am I sharing all of this? Well, one of the things that became super, super clear to me is – how Disney has become the absolute behemoth company that it has. I did a bit of research – I think they make, was it something like 46 or 48 million dollars a day?
And what's clear to me is… Yes, they have good products, great products and all that kind of stuff. But what they do have above anything else – is a breathtaking experience. Okay? An absolutely incredible experience.
To the point where… Think about this… Like, I was in one situation at Disney where we actually stood in line, in a queue for one particular ride… Yes, granted they had technical difficulties. They kept announcing this… But ultimately, we queued up for two and a half hours – to get on one ride that lasted probably three, four, or five minutes.

So all the time you're in the queue. You're waiting, your feet are hurting, you're thirsty, you're hungry… You stood there thinking, "Oh, my gosh!" But then, within that four minutes of being in that experience, and coming out of there… You completely forgot about all that pain of waiting.
Why? Because the experience was SO incredibly good!!
Overcome Customer Resistance By Offering An Amazing Experience
And so, I think there's a lot to learn there, for all of us as online business owners, marketers, affiliate marketers… Whatever it is that you're doing in your business – think about that.

Give an amazing and incredible experience.
And even if there's been bumps in the road along the way with people that you're dealing with. That great experience can overcome everything.
So that's my message for today. I hope that comes with something that puts a thought into your mind. Because, for me, experiencing that has changed the game!
So with that said, thank you for joining me on today's Drive. Until next time with "Internet Marketing Guru Fakers, Liars, Cheats, And BS Marketing Products", take care. Bye bye for now."
There you have it then. Just a quick tip on how you can overcome customer resistance to products and services in your business, by over-delivering and creating an overwhelmingly positive and amazing experience for them.