New Ways To Get More Followers On Instagram
How To Get More Followers On Instagram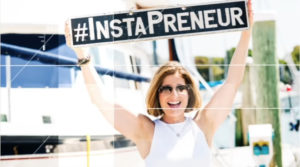 The number one question that I get asked every single day is how can I get more followers on Instagram.
I'm Sue B. Zimmerman and today's your lucky day, because I'm going to teach you how to authentically attract your ideal follower.
Instagram has changed over the last few years. Gone are the days of feeling like you are the first one to the party. So if you're not aware of the latest ways to grow your Instagram following, then stay tuned as I bring you up to date.
Automated Instagram Bot?
But before I dive in to my top tips – and I know that you want them – for getting more followers, I need to mention that the most important thing not to do is to use an automated bot or tool to game Instagram.
If you start to use any kind of bot, then you will be following accounts that you are not going to be interested in seeing in your news feed. Yeah, that's what happens. To get new followers, the bots then follow all kinds of random people. In addition to having bots ruin your beautiful news feed, the content that you actually want to be looking at, bots also leave random stupid comments on your content.
You want real people leaving real comments on the content that you take the time to share on Instagram. You want it to be engaging, and you want it to be from people, not bots.
Attracting Instagram Followers
I always say it's so much more important to attract the right follower than to have many followers.
Now let's get to the good stuff. There are real tactics that you can be using to actively grow your Instagram account. I say actively because none of these tips allow you to do something once and then leave the party. To consistently grow, you have to consistently be working at it. Trust me. I have been doing Instagram for almost five years.
Instagram Commenting
The first tip is to strategically comment. So make a list of 10 to 20 people who have followers that are similar to your target audience.
I know that Peggy Fitzpatrick, Sunny Lenarduzzi, Amy Porterfield, Marie Forleo, and Donna Moritz all do. So what I want you to think about is going into their accounts once a day and checking in.
Maybe you turn on notifications so that you get notified. And I want you to see what they are posting. I want you to go in and be a part of the conversation and leave a comment. Leave a comment so that they see it, so that it stands out, and don't just say nice pick. That's what the bots do, or say, oh, that's interesting.
But you can use emojis. See how I told Peggy that I was bringing a stand when we were going to get together?
So I'm going to show you a couple more examples. So that was Peggy. Sunny Lenarduzzi, so proud of this chick. She's just crushing it. And I use emojis a lot. Love seeing this. So maybe if you like emojis, you add them to your comments as well. Amy Porterfield has a cute dog that reminds me of Mr. Cody. And I'm like, Gus would love Mr. Cody.
Use Instagram Stories
You want to gain more followers, then start using Instagram Stories. Instagram is now recommending Instagram Stories in the Explore tab to relevant people. So if you aren't using Instagram Stories, then obviously you cannot be recommended.
Now, when you click into that Explore tab, you see photos that you might be interested in, videos that you might be interested in, and at the very top, this is where there are stories that are being recommended based on your engagement and activity.
Share tutorial videos. People love watching how things are made or seeing how people do things, even if they're fun and playful, like this one. So just like Instagram Stories, Instagram is showing suggested videos. And if you are consistently showing video tutorials as a post, Instagram will start to recognize that your account is a good one to recommend.
Quantity And Timing of Instagram Posts
Now, I have a specific video coming up in the next week talking all about ways to overcome the Instagram algorithm, so stay tuned for that. But quickly, I will mention that less is more, and timing is key. Posting less photos. Too many posts back to back buries your content in the feed.
And it's really important to determine your optimal time of day to post. I know that for the Instagram expert, on a Friday night, the posting between 8:00 and 10:00pm will get me some nice engagement on a post. It's important that what time is best for you.
Oh, and peekaboo, I see you. On a side note, I still see occasional accounts set to private. If you are here for business, make sure your account is public.
These are all strategies that I will definitely be working on in 2017 and teaching more in-depth tutorials inside my program, #ReadySetGram, to other business owners just like you. See you on the next video.