How To Maximize The Benefits Of RSS For Blog Commenting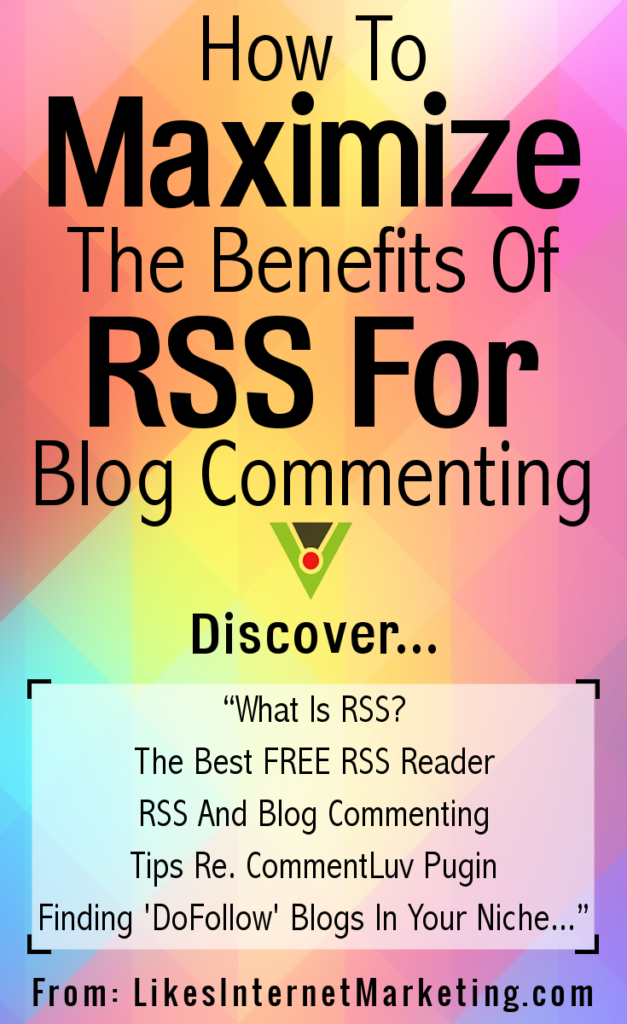 If you're a regular blog commenter or aspire to be (the benefits of blog commenting properly are outstanding), I'm going to explain how you can get some real benefits of RSS for blog commenting.
Websites and blogs come in all shapes and sizes and if you're trying to keep track of many regularly updated sites, then you could simply end up with a ton of bookmarks to check through every day or so. Pretty laborious! That's where RSS comes in.
What Is RSS?
RSS literally stands for Rich Site Summary. Or alternatively, it's also known to stand for Really Simple Syndication, which is what I've always called it. An RSS 'feed', as it's called, is simply a standardised format for providing content from websites which regularly update over time.
Blogs most commonly employ RSS feeds. WordPress is becoming widely used for almost any kind of website nowadays because of its versatility as a content management system and its ever growing popularity and third party support. But because it's essentially a blogging platform at its core, most all WordPress based sites have an RSS feed by default. RSS feeds can therefore be found on a wider and wider variety of websites as a result.
You can sometimes see an icon link to a site's RSS feed in the header or footer, sometimes next to the social media buttons for the site. Even if the site has no visible link to an RSS feed, you can often discover this by simply typing /feed after the domain name. However, the method I'm going to talk about involves an application which will sniff out the RSS feed of any website you're on.
Most blogs have a main site feed, but also offer comment feeds for their posts. At the moment I'm just using main feeds from each site, although there's probably a clever way of using the comment feeds which I haven't thought of yet.
If you have any bright ideas on that, please feel free to comment constructively below.
Inoreader's Free RSS Reader
The tool or application I'm talking about here is an RSS feed reader or aggregator. Now I'm not going to go into the pros and cons of RSS readers; there's plenty to choose from with various levels of complexity, so it's up to you to find and check out which one fits your purposes best. I will talk about the one I use though, and that's Inoreader.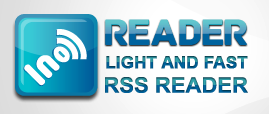 Inoreader is available for free as an app for Android and iOS, and also as an add on or extension for Firefox and Chrome. Internet Explorer is also supported I think. I'm using the Firefox version which works in-browser and is fabulous!
So, when I'm on a blog or site which I want to follow for the purposes of commenting on relevant or interesting posts, all I do is click the Inoreader button in Firefox's toolbar and a drop down window offers to find all the RSS feeds on the site. You can then select the feed you want to subscribe to and it appears in your Inoreader's Subscriptions list on the left.
Maximizing the Benefits of RSS for Blog Commenting With Inoreader
Clicking on All Articles gives you a nice clean line-by-line list of all blog names, post titles & first sentence from all your saved RSS feeds, sorted by chronologically with the newest at the top – very handy for getting in quick as one of the the first commenters.
One great feature of Inoreader is that you can organise your blog feeds into separate named folders.
However another even more powerful feature is Inoreader's comprehensive search facility. You can search all your feeds quickly and easily for keywords in titles and/or content using simple match types like match all words, match any, match full phrase or use advanced syntax to use operators like 'and' and 'or' to refine your search.
Additional search parameters include sort by newest, oldest or best matches first, and also selecting the article age range, eg. today, this week, this month, this year, all time, custom interval.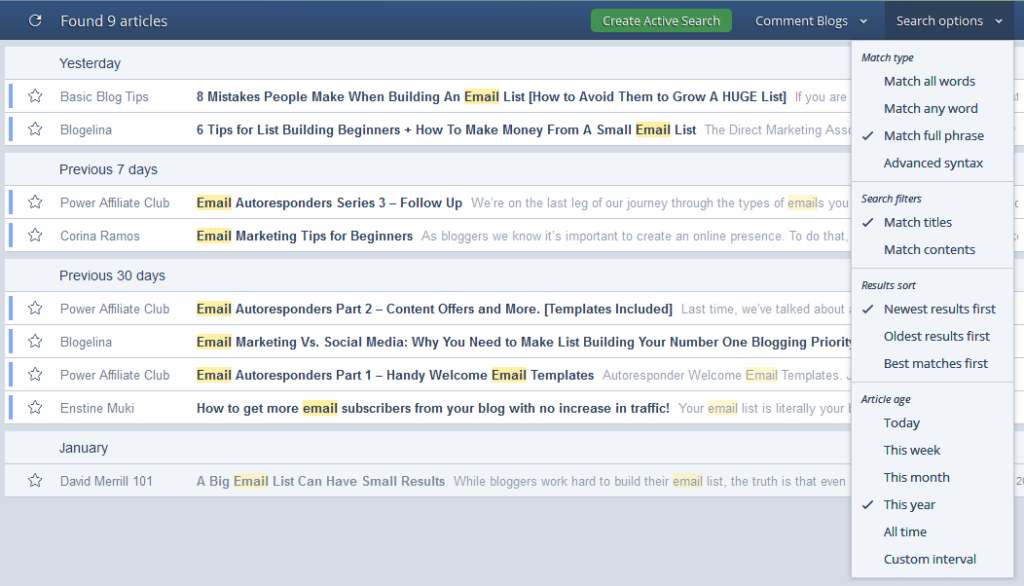 Imagine you've populated your Inoreader with feeds from numerous blogs in your niche who all post regularly. And now you've just written a post on a specific subject and want to comment on other blogs covering the same subject.
You see what I'm getting at here? Just do the search for your post's keyword in Inoreader and there you go – highly relevant posts to comment on at the push of a button. How cool is that?
Here are my best tips for really turbo boosting back links re. the above example…
If you have the CommentLuv plugin, why not make a 'CommentLuv' folder in Inoreader and add in feeds from all the blogs you find in your niche supporting CommentLuv. Then search that folder for your post's keyword and comment on the most relevant articles Inoreader finds for you. You should then get some nice 'dofollow' links back to your newest and highly relevant post.
You can Google for lists of CommentLuv enabled blogs, which may or may not be out of date. Perhaps a better idea is to go to Triberr, for instance, and look for the main blogs in your niche, visit them to check if they have CommentLuv. Then visit those bloggers commenting on this blog to see if they too have CommentLuv.
If you have the SEO Quake toolbar installed on your browser, you can configure this to automatically strike through any nofollow links on a page. You can then instantly determine if the blog allows dofollow CommentLuv links.
Add all the dofollow CommentLuv blogs in your niche to your Inoreader folder and comment on any articles as soon as they appear.
Remember ~ Responsible Blog Commenting Only!
OK yes, so we're all looking for some nice back links. But please remember that blog commenting is a social activity. You're writing to the author or owner of the blog and adding value to the post and also possibly establishing a working relationship further down the road, either with that blog owner or even with other blog commenters! So let back links take a back seat in your mind when blog commenting and look to add value and build relationships as the priorities.
If you've got any of your own tips or thoughts on any of these matters, please feel free to comment constructively below.