Adapting To Change In Business: Here's A Business That Failed To Adapt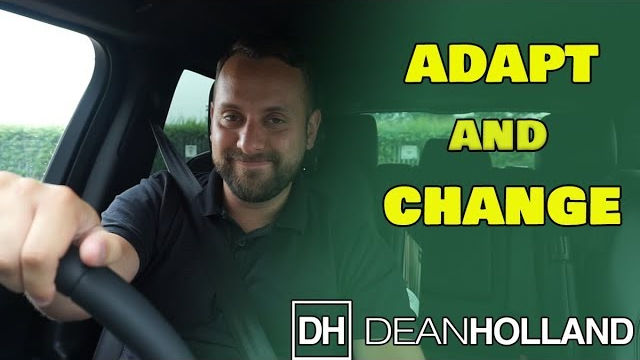 Especially online, the importance of adapting to change in business will always be a key factor of your success or failure over time. Also here's a well known but shocking example of a business that failed to adapt online…
"Good morning my friend, what is happening? How are you doing? Dean here of course, on the way to Internet Profits HQ on this fine, glorious day.
It is 7:26 in the morning right now, and I'm not gonna lie… You can probably tell by the look on my face. I am exhausted! It has been a long week.
Last week I was actually overseas for a week in Greece, in a small island called Kefalonia. I was actually attending a wedding. And we still haven't pulled all the footage together, so I've got plenty still to show you from this.
But nonetheless, I didn't access my computer, other than maybe to send a couple of emails and communicate with the team a little bit. But I didn't DO anything. So I've now got tons of stuff that I'm catching up on.
We're really busy at the moment – busy with setting a lot of stuff up. We're optimising and testing, and doing a lot of things to do with our funnel, and with setting up automated webinar campaigns. Building lots of different things.

Changes That Have Affected The Internet Marketing Space
And there's been a few changes that have been happening in the internet marketing space that have caused a few little snags along the way.
For example, the first one that comes to mind is Google recently making changes to to their their Google Chrome browser. Meaning that they have stopped allowing auto-playing videos to auto-play. And y'know, there's people trying to find workarounds for this I think. There are a few different solutions cropping up, which may or may not be any good.
So it's just been a bit of a pain. Just obviously adapting to change in business. And a few other changes that are kind of occurring right now…
Facebook have been making changes… For example, they have been getting rid of a few things, such as their Audience Insights tool – which now no longer exists (*). Which is a real shame because it was really helpful.
(*) Note: Facebook Audience Insights is still there of course. But in back 2018 when Dean was recording this content, Facebook removed the ability to analyse custom audiences from customer data or from the Facebook Pixel due to user privacy concerns.

And y'know, it's such a pain-in-the-ass when a lot of this kind of stuff changes! It's not just that you lose it… It's that a lot of the products that you create – the trainings, tutorials and the advice you give people – centres around some of the stuff that you've been using yourself, and are familiar with.
So when this stuff goes, it's not only a drawback for your own business – in the sense of your usability and the utility of that particular tool or service when things change. But additionally, if you've got products about them, then all those products no longer make sense. People try to follow them, and the stuff's just not there.
Online Platforms, Services And Tools Are Completely Outside Of Your Control
Needless to say, I think this raises an important point… That you have to be – when you're running a business, particularly in an online space where there are lots of online platforms, services and tools that you use, which are completely outside of your control…
You have to be open and willing to adapting to change in business – you have to be willing to adapt. You have to be willing to make alterations. And be willing to not just moan about it.

Y'know, me talking about it now… It's not, "Ah, my life's falling apart! Google stopped this. And Facebook have changed that. Now the world's gonna end!" This is not moaning. It's like, "Oh, this change is happening right now. That's a bit crappy for these reasons. So I have to adapt."
And that's really the message of the video… You have to be willing and able to adapt, when you're in business. You HAVE to, right? Because times change. Things change. Particularly I can say here at Internet Profits – sometimes we'll completely switch. Like, we'll be doing stuff, and all of a sudden priorities change.
It's an exciting environment to work in, and operate in. I remember when I used to be in jobs that I hated. You show up every day, and every day is the same. You're just like a robot. It's like 'do this-do that' robotic, y'know.
Whereas here, although we've got certain tasks that are kind of like that. I think that'll always be the case. But there's a lot of excitement when we're thinking of new plans, projects and different things that we're doing. Different videos, different approaches, different concepts, different products… It's very exciting to me and the rest of the team as well.

But it also brings an element of madness, because you have to be willing to adapt and switch quickly and constantly in the moment – adapting to change in business. The amount of times where we're like, "Right, we've got to stop – we've gotta do this." y'know?
Adapting To Change In Business And An Example Of A Business That Failed To Adapt
So you've got to be willing to adapt. Don't hang on to anything like it's gonna be there forever. Be willing and able to move fast, adapt fast. Don't get caught in the past.
Adapt with the changes – adapt into the future. It's always gonna be this way. The amount of changes that I've encountered over the last decade and more, operating with an online business on the internet. It's phenomenal!
And if you don't adapt, then you cease to exist. It's as simple as that.

Here's a popular example of a business that failed to adapt to change online… Look at Blockbuster for example. They now cease to exist. I think I read that Blockbuster had the opportunity to buy Netflix a long, long, time ago – and they didn't!!
I bet there are people in the world now that look back on these things and say, "If only we adapted. If only we made changes."
So you've got to think about these things. You're in an online space. The world changes. Business changes. Platforms change. You have to change, you have to adapt – adapting to change in business… Because if you don't – as I say – you will cease to exist.
And with that great thought of ceasing to exist, I'll leave you for today until next time with "Recap And How To Boost Affiliate Marketing Commissions". So have a great day. I'm gonna jump in now – first one here. I was last one out yesterday, first one back today because I'm busy. Lots of stuff to do. Gotta make stuff happen. Take care – bye, bye.